Cooperation with China can aid Laos' economic recovery: economist
Economic cooperation between Laos and China through the framework of the Belt and Road Initiative (BRI) should help to facilitate Laos' economic recovery following the Covid-19 pandemic.
Chairman of the National Assembly's Planning, Finance and Audit Committee, senior economist Dr Leeber Leebouapao, told Vientiane Times yesterday that economic cooperation with China was critical in boosting the economy and improving people's livelihoods.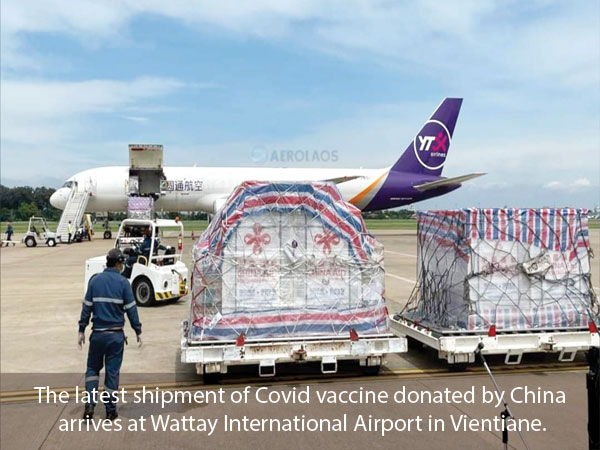 "China is a huge market for our agricultural products and growing demand in China can drive agricultural development and investment in Laos," he said.
China has pledged to support Laos in the fight against the virus to prevent a second wave while further reinforcing economic cooperation to enable the two countries to overcome economic challenges.
Visiting Chinese Foreign Minister Wang Yi was quoted in Xinhua as saying that Laos and China should each make an effort to coordinate in the control of the epidemic through economic development.
China is willing to give priority to Laos in accessing Chinese-made vaccines while also working with Lao counterparts to speed up the development of projects under the BRI along the Laos-China Economic Corridor.
Although travel restrictions and preventive measures are in place to contain the coronavirus pandemic, Chinese-funded development projects in Laos are progressing as planned.
Chinese and Lao airlines have been authorised to operate flights between Vientiane and Kunming to facilitate construction of the railway, expressway and other large-scale projects underway in Laos.
Construction of the Laos-China railway is currently more than 90 percent complete and is on track for full completion next year.
Meanwhile, construction of the Vientiane-Vangvieng Expressway is also 90 percent complete and will open for public use in December.
In Vientiane, construction of the new Mahosot Hospital is now 60 complete and is expected to be finished next year, according to a press release from the Ministry of Foreign Affairs.
China is the largest foreign investor in Laos and a key trading partner. As of 2019, China had invested in 785 development projects with a combined cost of US$12 billion. The value of two-way trade between the two countries reached US$3.5 billion in 2019, an increase of 17.4 percent compared to 2018.
During Mr Wang Yi's visit to Laos on October 13-14, China agreed to tariff reductions on goods imported from Laos, meaning that 97 percent of all products from Laos can now be imported by China duty free.
However, the relevant sectors need to do more to ensure that Lao entrepreneurs and producers benefit from China's tariff reductions.
During Mr Wang Yi's visit, the two sides also agreed to work towards building a community with a shared future and initiate a "green channel" to facilitate the transport of goods through border crossings between Laos and China.
Laos is confident in China's capacity to contain the Covid-19 outbreak, believing that China will become a model in the global battle against the virus and expressed appreciation of China's support in helping Laos to combat the virus.

By Somsack Pongkhao
(Latest Update October 16, 2020)