Drugs go up in flames to mark National Day against Trafficking
Several provinces on Tuesday set fire to illegal drugs seized during police raids around the country, in support of National Day against Drug Abuse and Trafficking which is marked annually on October 12.
In Oudomxay, authorities burned 396,502 amphetamine tablets, 534.3 grams of heroin, 41.22 kilograms of crystal methamphetamine, 186.3 grams of opium, 297.8 kilograms of drug precursor chemicals, and other items.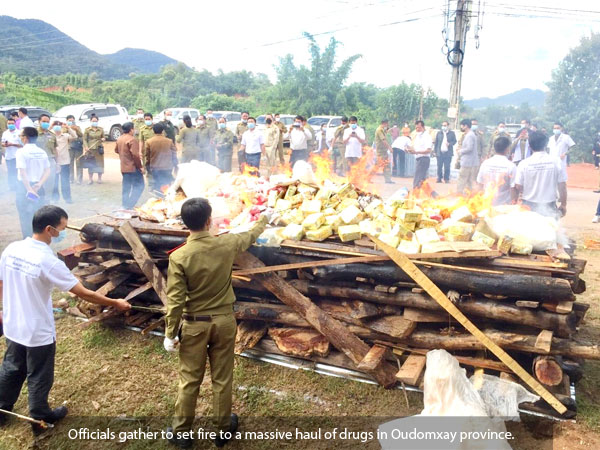 The event was attended by the province's Deputy Governor, Mr Somchit Panyasack, and other officials.
An official said the event served to highlight the widespread drug epidemic, which is present in both urban and rural areas and has become a threat to security and an obstacle to national development.
It is recognised that tougher action is needed to control the drug trade and prevent the use of narcotics.
On the same day, authorities in Xayaboury province set fire to 308,033 amphetamine tablets, 718.8 grams of opium, 795 grams of heroin, and other types of drugs. Officials in Xayaboury have taken steps to address the drug problem, including educating people of all ethnic groups about the harmful effects of drugs.
There are two drug treatment and rehabilitation centres in the province where 231 people have been treated and returned to their families, while 255 more are still undergoing rehabilitation.
In Luang Prabang, authorities set fire to more than 95,000 amphetamine tablets, as well as some opium seeds, 168.91 grams of opium, 2.8 grams of heroin, and drug paraphernalia.
An official said that in 2020-2021 authorities dealt with 152 cases involving drugs, dealing with 223 suspects. Of these, 119 cases went to court with sentences being passed. As a result, 153 people are now in prison after being convicted of drug-related offences. Twelve prisoners were given life sentences.
Over 200,000 amphetamine pills, 9,776 grams of opium, over 1,052 grams of crystal methamphetamine and other types of drugs were also burnt in Luang Namtha province.
In Borikhamxay, drugs weighing hundreds of kilograms, mostly amphetamine, were burnt.
Speaking at the event, Head of the province's Public Security Headquarters, Colonel Kongchan Xaypanya, said that in the past year police had processed 188 drug-related cases, including 178 involving drug trafficking.
Police seized 553,814 amphetamine tablets, 2,601 kilograms of cannabis, 8 kilograms of cannabis seeds, and other items. On this occasion, 402,460 amphetamine tablets, 500 kilograms of dried cannabis, 290 kilograms of ice, and 0.4 grams of heroin were burnt.
National Day against Drug Abuse and Trafficking was not officially recognised in Vientiane this year due to the Covid-19 outbreak, an official from the Lao National Commission for Drug Control and Supervision said.
By Phomphong Laoin
(Latest Update October 14, 2021)