Laos seeks further development through CAEXPO
Laos hopes to develop products as well as expand overseas markets by finding foreign investors and business partners during the 18th China-Asean Expo (CAEXPO).
The Expo is seen as highly valuable for China-Laos cooperation. At this year's event, Laos is exhibiting products at 54 booths, while the Online CAEXPO also includes Lao featured products such as beer, coffee, rice, tea, wooden furniture, silver ornaments, and handicrafts.
Mr Phankham Viphavanh addresses the online opening ceremony of the 18th CAEXPO and CABIS last week. Source: Screenshot from the Online CAEXPO.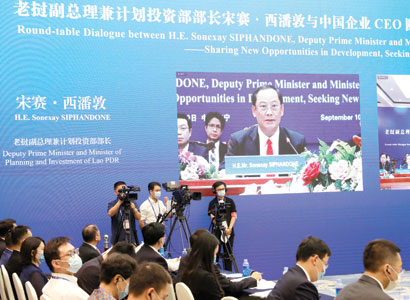 The Round-table Dialogue between Lao leaders and CEOs from China takes place in Nanning, China, on Friday.
On the first day of the Expo, the opening ceremony of the Laos National Hall took place, with the hall being situated next to the Lao Products Hall to increase its influence.
Laos needs more foreign investment for its economic development and the CAEXPO and CABIS serve as bridges connecting Laos and foreign investors. An event to promote investment in Laos by other Asean countries took place on June 11.
On Thursday, the Commemoration of China-Laos Diplomatic Relations & China-Laos Economic Cooperation Forum was held in Nanning, to raise China-Laos communications to a new stage, deepening practical cooperation between China and Laos, and facilitating the strategic docking between China's Belt and Road Initiative and Laos' From Landlocked to Land-linked Strategy.
The 18th CAEXPO and China-Asean Business and Investment Summit (CABIS) took place in Nanning, China, last week.
Chinese President Xi Jinping sent his congratulations while the Vice President of China, Mr Wang Qishan, read Xi's letter of congratulations and delivered remarks at the opening ceremony.
The Lao government attaches great importance to utilising the CAEXPO and CABIS as platforms to enhance China-Asean exchange and cooperation in various areas.
During the opening ceremony, Prime Minister Phankham Viphavanh gave an address by video link.
Deputy Prime Minister and Minister of Laos' Ministry of Planning and Investment, Mr Sonexay Siphandone, also gave a speech and held talks with representatives of various Chinese businesses during the Round-table Dialogue between Lao leaders and CEOs from China, a dialogue under the framework of CABIS.
Mr Phankham noted that 2021 marks the 60th anniversary of China-Laos diplomatic relations and the Year of China-Laos Friendship, which is of great significance.
The Laos-China Railway, which will come into operation on December 2, Laos' National Day, is a symbolic project within the framework of the Belt and Road Initiative. The railway will provide impetus for Laos-China and Asean-China cooperation in economy, investment, tourism, employment, and cultural and people-to-people exchanges.
As one of the key events of the CABIS, the Round-table Dialogue between State Leader of Laos and CEOs from China took place on the same day as the opening ceremony.
During the meeting, Mr Sonexay met with representatives of Chinese businesses such as the China Southern Power Grid, China Datang Group, China Railways International, and China-Asean Information Harbour to discuss issues under the topic "how to deepen industrial cooperation and how to highly integrate into regional industrial chain, supply chain, and value chain".
"The meeting provides an important communication platform for encouraging businesses to invest and improve the investment environment in Laos," Mr Sonexay said.
"I hope we can use this dialogue platform to exchange ideas, which will serve as references for the government to supplement its current political measures, so as to remove barriers that domestic and foreign enterprises face when handling commerce and investment affairs and create a better business environment."
"I hope that this constructive exchange will boost the economic and social development of Laos, enhance the lasting cooperation between Laos and China, and bring tangible benefits to the peoples of our two countries," he added.
During the CABIS, there were also the Symposium on China-Asean Commercial Legal Cooperation. The China Council for the Promotion of International Trade and the Lao National Chamber of Commerce and Industry jointly signed a Memorandum on the Establishment of China-Laos Commercial Legal Cooperation Committee.
Lao Ambassador to China, Ms Khamphao Ernthavanh, also accepted a joint media interview on questions relating to the 60th anniversary of China-Laos diplomatic relations.
Sixty years make up a cycle of calendar in Chinese culture with the meaning of a new beginning.
Laos and China have been through one cycle and are now in the best period for developing bilateral relations. As one can see, the future of China-Laos cooperation includes infinite possibilities. And one can be convinced that Laos, in its new era of development, will surely create a brighter future on the stage of the CAEXPO and CABIS.
By Advertorial Desk
(Latest Update September 16, 2021)