Laos targeting 4.6 million visitors in 2024
The government hopes to attract at least 4.6 million visitors during Visit​ Laos Year​ 2024, generating targeted revenue of US$712 million.
It is anticipated that more than half of this number of tourists will be foreign nationals, spending at least US$401 million, Minister​ of​ Information, Culture and Tourism Mrs Suanesavanh Vignaket​ told the government recently.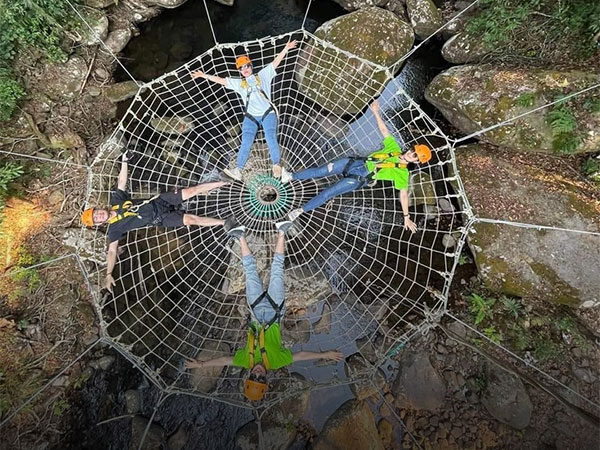 The recreational spider web net at Nam Kat Yorla Pa in Oudomxay province. (File Photo​ Nam Kat Yor​la Pa)
To fulfil this goal, the government will promote the country's most colourful festivals to attract visitors, such as the That Luang Festival in Vientiane, the Lao New Year​ celebrations, and celebrations in Luang Prabang province to mark the end of Buddhist Lent.
In addition, the Sikhottabong Stupa Festival in Khammuan province, the Ing Hang Stupa Festival in Savannakhet province, the Vat Phou Temple Festival in Champassak province, and the City Pillar Festival and caves in Huaphan province will be widely advertised.
The Phabathphonsan Festival in Borikhamxay province, the Elephant Festival in Xayaboury,​ the Kapok Festival in Bokeo, Rice Planting Festival in Xieng Khuang, Hotay Pidok manuscript repository festival in Saravan, and the Jieng Tueang Stupa Festival​ in Luang Namtha province will also be opened up to tourists.
The Ministry of Information, Culture​ and​ Tourism​ is submitting these plans to the government for approval.
The ministry also has 25 other provincial activities lined up for the Lao Event Tourism Calendar.
The Visit Laos Year 2024 tourism promotion is aimed at bringing more foreign tourists to Laos as well as creating jobs for people across the country and bolstering foreign currency earnings.
The ministry​ is partnering with tour companies and airlines to draw up a list of suitable activities for tourists and select a logo and theme to promote Visit Laos Year 2024, with the final selections to be made by the end of this month.
Next month, the national steering committee will meet to consider the proposed events and draw up a budget, which will be submitted to the government for approval.
A Visit Laos Year 2024 calendar will be produced, as well as videos and souvenirs, and the campaign will be advertised in media outlets and on websites in September and October.
In November and December, the ministry will hold a press conference and the opening ceremony of Visit Laos Year 2024.
During Visit Laos Year 2018, visitor arrivals topped 4.1 million, up 8.2 percent compared to 2017.
During Visit Laos-China Year 2019, Laos welcomed 4.58 million international visitors, representing an increase of 9 percent over 2018.

By Times Reporters
(Latest Update July 7, 2023)