Lao workers head for jobs in S. Korea
There is an exciting opportunity for people seeking work abroad to get jobs in the Republic of Korea.
Jobs can be obtained by applying to the Buasavanh Employment Service Company and then taking a skills test and a short course in the Korean language.
Many job seekers in Laos struggle to find work because they are unskilled and are unable to make progress. In general, skill levels are low and most young people are poorly educated.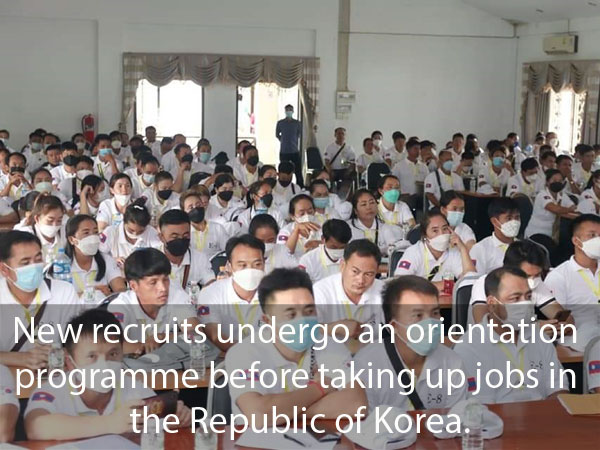 On Monday, Deputy Director General of the Department of Employment of the Ministry of Labour and Social Welfare, Mrs Vanny Keosayavong, opened a training course to prepare new applicants for seasonal work in Korea.
She said training strengthens new recruits' job skills and provides them with a basic knowledge of Korean so they can be more proficient in their work.
The current batch of new recruits will take up jobs in Yeongdeok and Hoengseong districts.
Staff from the Department of Employment are familiarising new workers about their work and the conditions they can expect, before their departure for Korea next month.
They must first undergo a training course administered by the Buasavanh Employment Service Company in Vientiane.
A company representative said young people interested in working in agriculture in Korea can register with the company.
Employment contracts run for five months to one year. Workers earn a minimum of US$1,600 to US$2,000 a month and are also eligible for social welfare benefits.
Korea is hiring workers under a Service Commitment Agreement through a points system agreed to by the Industries Sector and SMEs, an official from Laos' Employment Service Centre at the Ministry of Labour and Social Welfare said.
Korea accepts young workers from various Asean countries including Laos to work in small and medium enterprises in agriculture, the service sector, and other industries.
South Korea is seen as a good choice by Lao workers because they can gain useful experience, develop their skills, and earn a reasonable income.
An official from the Ministry of Labour and Social Welfare said Laos and Korea have jointly updated the procedures involved in the hiring of workers, including skills development, competency testing, employment promotion, and job market information.
The Buasavanh Employment Service Company accepts applications from people who are in good health, aged 25-45, and have a genuine desire to work.
By Phetphoxay Sengpaseuth
(Latest Update May 27, 2022)