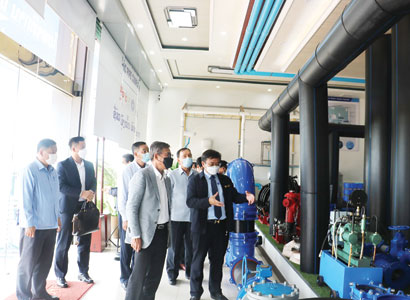 Mr Bounlong Douangnaly explains various products manufactured at Lao Pipe to Mr Viengsavath Siphandone and his delegation.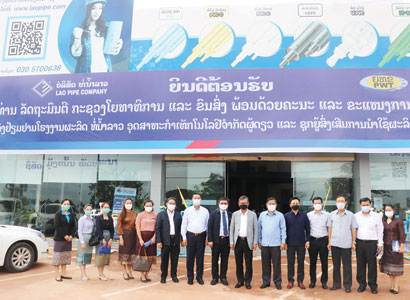 Mr Viengsavath Siphandone poses for a group photo with the delegation and the staff of Lao Pipe.
Minister visits Lao Pipe to promote domestic production
Lao Pipe Industrial Technology Sole Company Limited (Lao Pipe) on Tuesday warmly welcomed the Minister of Public Works and Transport, MrViengsavath Siphandone, and his delegation when they visited its DD pipe and LP pipe manufacturing and distributing factory in Xaythany district, Vientiane.
The event was hosted by the President of Lao Pipe, Mr Bounlong Douangnaly, together with the company's vice president and staff.
Mr Bounlong said Lao Pipe Industrial Technology Sole Company Limited was established in 2006 and since then has been selling and delivering goods to more than 5,000 stores nationwide. The factories produce PVC, U-PVC, HDPE, PPR pipes, fittings, water tanks, more than 30 wastewater treatment machines. The company has a total staff of 2,000, and a production capacity of 7,000 tonnes per year.
Lao Pipe received the Lao standard 71-2009 certification in 2013 and the international standard ISO 9001: 2015 in the middle of 2018. The company supplies pipes and equipment for water supply projects throughout the country and is credited for more than 100 clean water projects.
Lao Pipe has also gained the trust of Vientiane Water Supply State Enterprise, supplying it pipes for five consecutive years, and installing 20,000 water metering home units, he added. The company supplied and installed pipes to ADB's water supply and sanitation projects in Viengkham district of Luang Prabang province; invested in construction of water supply plant with a production capacity of 1,200 cubic metre per day in model of PPP (public private partner) in Luang Prabang; built factory, supplied and installed water supply system in Xienghone district, Xayaboury province; supplied pipes to SUNWIP project in Xeno district, Savannakhet province, supplied pipes and equipment to Norico project in Bounneua district, Phongsaly province; supplied pipes and equipment and installed water supply system in Sanamxay district, Attapeu province.
On this occasion, Mr Viengsavath said that the overall infrastructure- public works and transportation, including bridges, architecture and urban planning, especially water supply and sanitation - is being continuously upgraded.
He added that the government promotes the use of locally-manufactured products to reduce imports. The pipes and equipment manufactured at Lao Pipe's factory are reliable as a proper checking and testing system is in place in line with the internationally recognized standards. This is also promoting the economy and has generated jobs for 200 people who work in 24 hours shifts. This has reduced the number of people moving abroad to pursue jobs.
By Advertorial Desk
(Latest Update September 16, 2021)