Nam Theun 2 shareholders, govt partner in world's largest hybrid floating solar project

The government and shareholders in the Nam Theun 2 hydropower plant have agreed to develop Nam Theun 2-Solar, the largest hybrid floating solar project in the world.
With an installed capacity of 240MWp, the solar project will be built on the reservoir of Nam Theun 2, one of the largest hydroelectric projects in Laos.
The Lao government and Electricité De France (EDF) signed a Project Development Agreement in Vientiane on Monday to kick off development of the project in Khammuan province.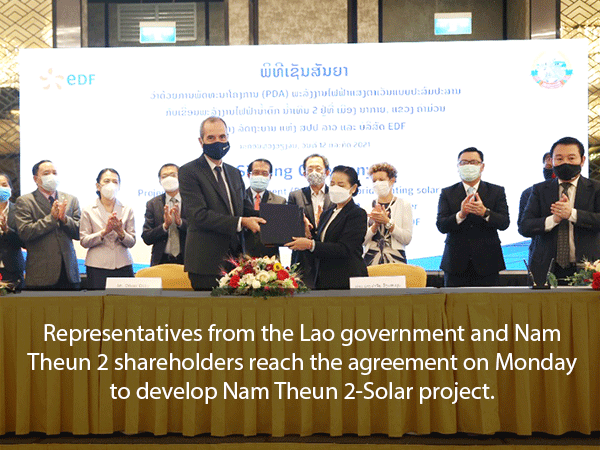 The project developers, led by EDF in partnership with the Lao Holding State Enterprise (LHSE) and the Electricity Generating Public Company (EGCO) of Thailand, are targeting the start of construction in 2022 and operation to begin in 2024.
The solar-powered venture would be the largest hybrid floating solar project in the world, covering an area of 3.2 square kilometres (less than 1 percent of the reservoir's area at full supply level), according to the Nam Theun 2 Power Company.
It is not yet known how much it will cost to build the Nam Theun 2-Solar project.
The hybrid installation will allow the operation of the solar installation in conjunction with the hydro installation (1,080MW).
The objective is to save water so that, when the sun shines, hydro generation will decrease and less water will be used, keeping it for the dry season. On average, the asset will increase by 6 percent the total generation of the Nam Theun 2 plant.
"The Nam Theun-2 Solar project will provide clean, safe, reliable and competitive electricity, with no major environmental or social impact. The water saver concept, which allows the transformation of variable solar energy into additional and stable hydroelectricity, is an innovation to generate renewable electricity in a more reliable manner. With the Nam Theun 2-Solar project, EDF is delighted to continue writing the NT2 story, with the Lao government and our partners EGCO and LHSE," said Jean-Philippe Buisson, EDF's Vice President for Asia.
The Project Development Agreement was signed by Deputy Minister for Planning and Investment Ms Khamchan Vongsenboun and the Executive Director of EDF Group in charge of the International Division, Ms Béatrice Buffon.
The signing ceremony, which took place both physically and online, was attended in Vientiane by senior government officials from relevant sectors, along with ambassadors and company representatives.
Beginning commercial operations in 2010, the Nam Theun 2 (1080 MW) hydropower project operates under a public-private partnership.
The Lao government holds a 25 percent share through the Lao Holding State Enterprise (LHSE), Electricité de France (EDF) holds a 40 percent share and Electricity Generating Public Company Limited (EGCO) holds a 35 percent share, under a 25-year concession agreement.
The plant generates 6,000 GWh annually, providing electricity to the Lao (5 percent) and Thai (95 percent) power grids.
By Somsack Pongkhao
(Latest Update July 14, 2021)