New Party chief, acting governor appointed to lead Oudomxay
A new Party leader and acting governor has been appointed to lead Oudomxay province's overall development over the next five years until 2025, local media reported.
Alternative member of the Lao People's Revolutionary Party Central Committee Mr Bounkhong Lachiamphone has been appointed as Party Secretary and acting governor of Oudomxay, replacing Mr Khamphanh Pheuyavong, who takes up a new post.
An official ceremony to hand over the position was held on Tuesday at the province's Administrative Office in the presence of Politburo member and Vice President of the National Assembly, Sisay Leudetmounsone.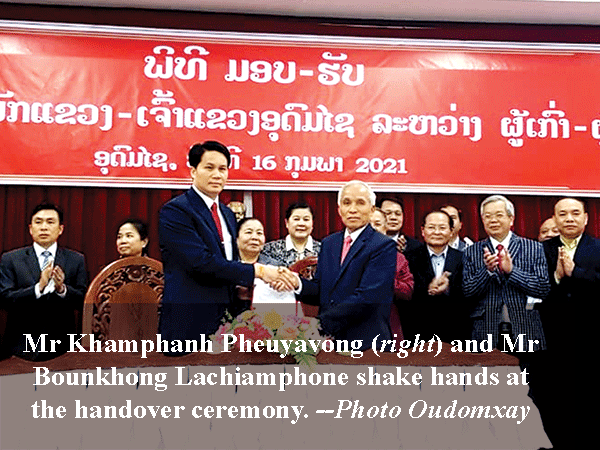 Mr Khamphanh, 62, has been appointed chief of the Propaganda and Training Board of the Party Central Committee (PCC), replacing Mr Khamphanh Phommathat, who has been appointed Head of the PCC's Inspection Committee.
Bounkhong, 48, was formerly the Deputy Party Secretary of Oudomxay province. He was recently elected as an alternative member of the Party Central Committee by the 11th National Party Congress.
The high-level replacement takes place as Laos elects the new leadership of many top state bodies.
The Lao People's Revolutionary Party recently held its 11th National Congress when the Party's new leadership was elected. Prime Minister Thongloun Sisoulith was elected as Secretary General of the PCC.
Prior to the 11th National Party Congress, all-level Party committees held congresses and elected new Party leaders of their organisations.
Preparations are now underway for nationwide elections on February 21, to select members of the National Assembly (Lao parliament) and members of Provincial People's Councils (provincial parliaments).
Shortly after the elections, the national and provincial parliaments will hold inaugural sessions to elect top administrative and legislative leaders including the state President, prime minister, and President of the National Assembly for the next five-year term. The National Assembly will also approve a new cabinet on this occasion.
In these inaugural sessions, provincial parliaments will consider and approve provincial governors.
Now appointed as acting governor of Oudomxay, Mr Bounkhong needs approval from the province's People's Council to become governor.
The change in the post of Oudomxay's Party Secretary followed an Order issued by the Party Politburo – the Party's top political body.
Mr Bounkhong was also appointed as acting provincial governor in accordance with a Prime Ministerial decree, the province's television reported.
By Times Reporters
(Latest Update February 17, 2021)