President praises achievements of defence forces
Secretary General of the Lao People's Revolutionary Party Central Committeee and Lao President Bounnhang Vorachit has said he greatly values the leadership of the Party committee of the Ministry of National Defence for their achievements in strengthening the defence forces, while advising them to broaden the work of the Lao People's Army.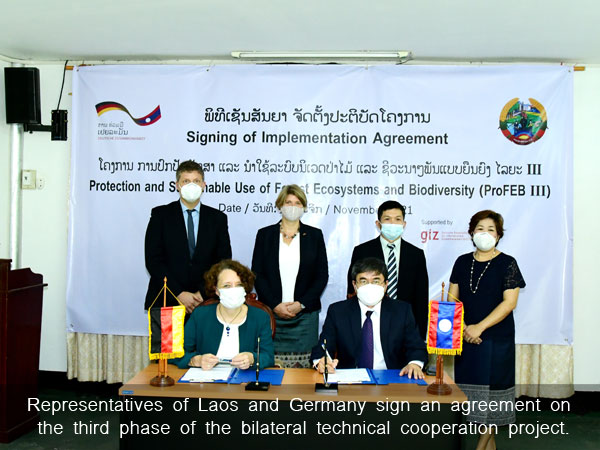 The president made the statement yesterday when addressing the Fifth Congress of the ministry's Party committee.
He praised the leadership of Party organisations at all levels of the ministry in guiding the application of the four major duties and 26 programmes in the field of national defence.
President Bounnhang, who is Chairman of the Central Committee for National Defence and Security, said the defence forces had honorably and actively contributed to their strategic mission by deepening the admirable role and function of the army, maintaining awareness, and continually striving to be prepared. The army has been the main force in fulfilling the Party's duty to people-oriented national defence and security. The country's independence, sovereignty, and entire territory has been protected, while political stability and social order have been maintained. The congress elected 33 Party members to the ministry's new Party committee, with General Chansamone Chanyalath re-elected as its secretary.
President Bounnhang called on the new Party committee to enhance the fine traditions of the Lao People's Army so that it was a sharper and stronger force, while decisively adhering to the Party's comprehensive, direct and decisive leading role.
He advised the ministry's Party Committee and organisations at all levels to strengthen their political ideology, organisational structure and comprehensive guiding capacity, and to be fully prepared to handle any situation that may arise.
It was essential that the armed forces move towards modernisation by incorporating professional methods alongside the building of political ideology and a commanding style of operation, the president said.
In terms of personnel, the army should source its recruits from among senior, young and junior generations of all ethnic groups and both genders, he added.
Finally, the president advised continuous implementation of the strategy to strengthen the political grassroots level and spur development in remote, mountainous, border and other important areas.
By Times Reporters
(Latest Update November 20, 2020)