Saravan folk recover from flooding after tropical storm

Saravan authorities are speeding up efforts to assist people in Saravan district who were affected by flooding when Tropical Storm Con Son passed over the country on September 11.
The Governor of Saravan district, Mr Chansilone Sisomboun, said provincial authorities are organising the construction of temporary homes for people whose houses were badly damaged, while repairs are underway to houses that suffered little damage.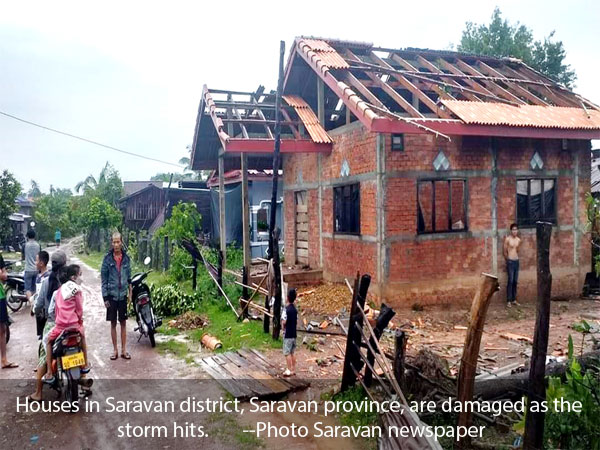 Food, drinking water and medicine, as well as help with hygiene, are also being provided and authorities are seeking funding from the government and individuals to help with relief efforts.
Meanwhile, authorities will continue to restore damaged houses and provide food and drinking water for people in need so they can get back to life as normal, Mr Chansilone said.
More than 100 houses in four villages of Saravan district were affected by the storm. At least 30 houses were badly damaged, while nine people were injured and an elderly woman died.
Donations of food, drinking water and other essentials worth more than 100 million kip have been received, along with almost 30 million kip in cash, the Saravan newspaper reported.
All parts of the country will have thunderstorms, rain and wind gusts until September 19, according to the Meteorology and Hydrology Department.
The department has forecast rain with gusting winds throughout Phongsaly, Huaphan and Xieng Khuang provinces from September 16-19, where temperatures will range from 18-31 degrees Celsius.
In the northwest there will be light rain and strong winds in parts of Luang Namtha, Bokeo, Oudomxay, Luang Prabang and Xayaboury provinces. Temperatures will range from 22-35C.
The central provinces of Vientiane, Borikhamxay and Khammuan will also have thunderstorms and rain from September 16-19, with an expected temperature range of 23-34C.
In the south there will be thunderstorms and light rain with strong winds in some areas of Champassak, Xekong and Attapeu provinces from September 16-19, where temperatures will range from 24-33C.
Vientiane can also expect rain and wind squalls from September 16-19, with temperatures ranging from 24-34C.
People should avoid spending time outdoors during thunderstorms and in high winds and stay away from large trees, unsound buildings and billboards. Everyone should be prepared for weather extremes and follow forecasts issued by the Meteorology and Hydrology Department.
By Times Reporters
(Latest Update September 16, 2021)