Savannakhet Dry Port opens Academic Learning Centre for Logistics and Transports
University students in Savannakhet province will have more choices for studies while they are able to upgrade their skills on logistics to find a job after they graduate. Thanks to the cooperation between Savannakhet University (SKU) and Savan Logistics Co Ltd.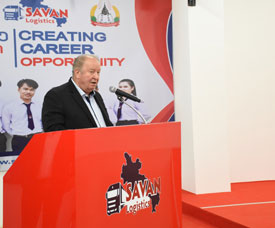 Mr Jean Pierre speaks at the event.
A Memorandum of Agreement between the Faculty of Engineering of Savannakhet University and Savan Logistics Co Ltd was signed during a ceremony held at Savan Logistics (Savan Park Zone C) on May 11.
The agreement was signed by the Acting Dean of the Faculty of Engineering, Ms Phoumxaydavone Sombounsack, and the CEO of Savan Logistics and the Founder of Savannakhet Dry Port, Mr Jean Pierre.
The event was witnessed by the Minister of Public Works and Transportation, Mr Viengsavath Siphandone, the Deputy Governor of Savannakhet province, Mr Viengthavisone Thepphachanh, the French Ambassadors to Laos, Ms Siv-Leng CHHUOR, Thai Ambassador to Laos, Mr Jesda Katavetin, representative from Malaysia Embassy to Laos, as well as, Laos and Foreign Chamber in Laos.
This cooperation aims to promote the development of technical staff of the two sides, to enhance the choices available to students, and to meet the needs of the labour market.
Under the terms of the agreement, the company will provide a study room for practical training and skill learning, and training for the faculty.
Savan Logistics will also provide a room for holding seminars and activities to support logistics lessons for both teachers and students, while the faculty will provide technical support for logistics research for further development.
The two sides will join hands for technical training of students to work in the logistics sector for the company.
"Savan Logistics Co Ltd is an experienced logistics service provider which was approved by the government for the dry port in Savannakhet," said Mr Pierre.
"We use high-technology vehicles and tools for providing services and monitoring goods. Since the opening of the Savannakhet Dry Port, the cost of logistics has been reduced and there is more convenience while jobs have been created for Lao labourers," he added.
"This cooperation is an important part of our company's efforts aimed at the development of education in SKU. The acceptance of students to practice and learn at the real site and by using the modern technology of logistics will allow them to upgrade their skills, and we can use them in our work after they graduate," he said.
The Savannakhet Dry Port was the first approved dry port to be acknowledged by UNESCAP. Former President Bounnhang Vorachit signed the ratification of the Savannakhet Dry Port to comply with UNESCAP requirements on October 16, 2019.
It is located on the East West Economic Corridor (EWEC), which has a total length of 1,450 km from Vietnam. It passes through Savannakhet province in Laos and Thailand and ends at Mawlamyine in Myanmar, linking the Andaman Sea with the South China Sea.
| | | |
| --- | --- | --- |
| | | |
| Ms Phoumxaydavone Sombounsack (left) and Mr Jean Pierre present the agreement at the ceremony in Savannakhet Dry Port on Wednesday. | Students from Savannakhet University gather for a photo with officials and representatives of the Savan Logistics company after the ceremony. | Officials, representatives of Savan Logistics and guests who participated in the event. |
By Advertorial Desk
(Latest Update May 13, 2022)