Thanaleng Dry Port, Vientiane Logistics Park hold ritual almsgiving ahead of December 4 grand opening
Thanaleng Dry Port (TDP) and Vientiane Logistics Park (VLP) on Tuesday hosted a ritual almsgiving and merit-making to offer best wishes to the mega project and its developer ahead of the grand opening scheduled for December 4.
Nine monks were invited to the auspicious ceremony, which took place at the project office in Dongphosy village, Hadxaifong district, Vientiane.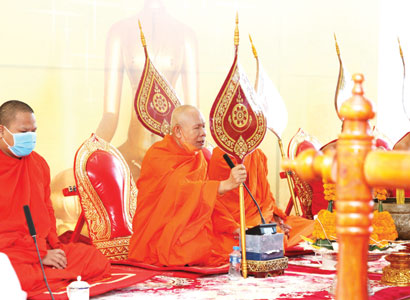 Attending the ceremony were the Mayor of Vientiane Atsaphangthong Siphandone; the wife of Prime Minister Phankham Viphavanh, Mrs Sichanh Viphavanh; Chairman of Vientiane Logistics Park Co., Ltd., Mr Chanthone Sitthixay and his family; former Minister to the Prime Minister's Office and current President of the Executive Board of Strategy and Planning at PTL Holding Company Limited (the parent company of Vientiane Logistics Park Co., Ltd.), Mr Alounkeo Kittikhoun, and other officials.
The dry port and logistics park are part of the Lao Logistics Link (LLL) project and part of the Lao National Logistics Strategy for 2016-2030, which will boost the government's efforts to transform Laos from a landlocked into a land-link country.
The developer of the dry port and logistics park launched a soft opening on September 7, 2021, to test service systems in preparation for the grand opening.
Located in a prime location next to the Laos-Thailand railway station and the Laos-Thailand Mekong Friendship Bridge 1, the dry port acts as a border checkpoint for freight, similar to a seaport-based or airport-based transit area or international arrival zone, where procedures are streamlined to enable the free flow of trucks and freight.
Thanks to these streamlined procedure and related facilities, it is expected that cross-border transport costs, especially at the Friendship Bridge Vientiane-Nong Khai border crossing, will fall by 40 percent from current prices by 2025.
Set to link with the Laos-China railway, which is scheduled to become operational on December 3, the dry port will eventually link to global transport systems via rail to European markets.
The dry port developer said the transport of goods from Southeast Asia to Europe via rail will take just over 10 days. This is much shorter than transport by sea, which takes about 45 days.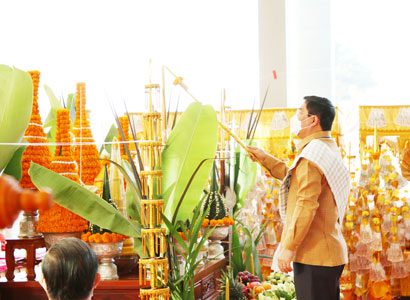 Initially, it is targeted that at least 300,000 containers from Laos, especially from the TDP, will be shipped by rail to Europe through China each year. Later, shipments are estimated to rise further to somewhere between 1.2 and 1.8 million containers a year.
Therefore, the US$727-million TDP and VLP project is set to bolster the government's vision for Laos to become a logistics and transport hub for countries in the region.
The dry port will also link with a planned railway connecting Vientiane with the Vung Ang seaport in Vietnam's central Ha Tinh province.Through this route, containers could reach countries and regions such as southern China, Japan, Republic of Korea, Russia, the Philippines and Indonesia.
Being developed on a 382-hectare site with a 50-year concession, the project comprises five zones offering various business incentives and opportunities for investors including tax breaks.
The zones are as follows:
1. Thanaleng Dry Port (TDP) - the centre of international import and export trade with all categories of customs operations.
2. Tank Farm - a fuel distribution centre for Laos.
3. Logistics Park - a warehousing and distribution centre.
4. Free Trade Zone.
5. Export Processing Zone.
By Advertorial Desk
(Latest Update December 2, 2021)