US supports Laos' Covid vaccination programme

The US government is supporting the Ministry of Health with the distribution of Covid vaccines to achieve the goals of the vaccination programme and help ensure that all eligible people are immunised.
Minister of Health Dr Bounfeng Phoummalaysith on Tuesday attended the launch of the United States Agency for International Development (USAID) Covid-19 Vaccine Rollout Support to the Ministry of Health through UNICEF and the World Health Organisation (WHO) in Laos.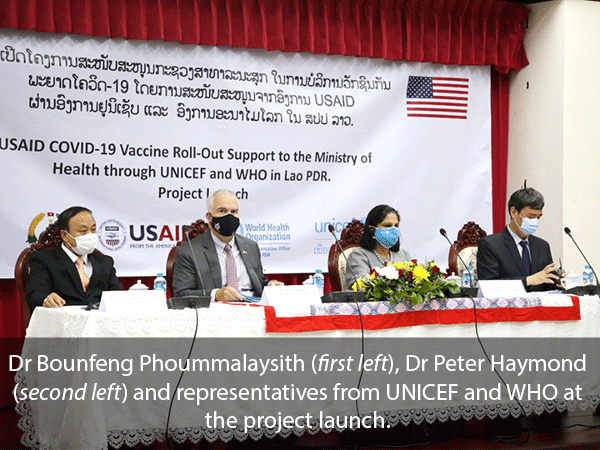 This support indicates the continuing commitment of the US government to the Lao government during these difficult and challenging times.
Dr Bounfeng said the support of the US would help the government to overcome the challenges encountered in bringing the Covid outbreak under control, by assisting with the distribution of vaccine and targeting those most in need of immunisation.
The programme will ensure that vaccination is carried out in a timely manner in line with the policies and plans of various parties, including the government's development partners and international organisations.
The US Ambassador to Laos, Dr Peter Haymond, said the US and Lao governments are fighting the Covid-19 outbreak together.
The US government through USAID has provided an additional US$2 million in aid to support the government's vaccination programme.
The US government has added to government contributions to the Johnson & Johnson and Pfizer vaccines to help stop the spread of Covid-19, in partnership with UNICEF and WHO.
The United States is also continuing to support education and public health systems to reduce the economic impacts of the pandemic.
This year, the United States and Laos are celebrating the 5th anniversary of their partnership model and it is hoped that cooperation with the US government will be expanded next year.


By Phetphoxay Sengpaseuth
(Latest Update September 15, 2021)