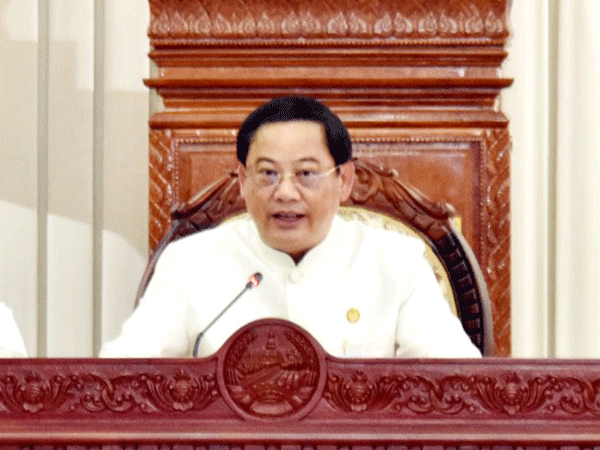 Prime Minister Dr Sonexay Siphandone.
Govt orders better management of rare earth mining

The Prime Minister has instructed the relevant agencies to expedite the drafting of a strategy on rare earth metals and other minerals, to ensure proper management of mining operations in Laos.
Speaking at the monthly cabinet meeting held in Vientiane on September 28-29, Dr Sonexay Siphandone highlighted the importance of rare earth metals for the Lao economy, given their global importance and high market demand.
The term rare earth refers to a group of 17 elements used in the manufacture of mobile phones, hard drives, and trains, but they are also important for green technology, including wind turbines and electric vehicles, according to Xinhua.
China is the world's leading producer, accounting for 70 percent of the world's mined rare earth elements in 2022.
As rare earth metals are in high demand globally, the government stressed the need to ensure that Laos fully benefits from the mining of rare earth deposits.
In recent months, National Assembly members have expressed concern about mining operations in Laos, saying that the mismanaged export of precious metals and other minerals has resulted in serious financial losses.
Lawmakers urged the government to set up laboratories to analyse each type of mineral deposit found in Laos, saying that strict oversight and closer collaboration in mining operations would enable the government to collect more revenue from mining companies and ensure that mineral resources were better managed.
In other areas of discussion, the government told the Ministry of Industry and Commerce to more closely regulate import and export companies and ensure they open accounts at commercial banks and carry out all financial transactions through the Lao banking system.
The ministry was also asked to hold further negotiations with neighbouring countries to boost the volume of agricultural produce exported by Laos, as well as ensure that sufficient supplies of fuel are imported to meet consumers' needs.
Meanwhile the Ministry of Public Works and Transport was asked to repair damaged roads across the country, including Road No. 13 and Road No. 8.
A section of Road No. 13 South between Km21 and Pakngum district in Vientiane has deteriorated and is riddled with potholes, lengthening journey times and delaying the transport of goods between Vientiane and the southern provinces.
In addition, the Ministry of Agriculture and Forestry was told to boost crop yields so that more fresh produce is available in Laos and less needs to be imported.
The sectors concerned were instructed to do more to curb the high rate of inflation, stabilise currency exchange rates, and deal with the debt owed to other countries.
The agencies responsible were advised to intervene and place caps on the market price of household staples such as rice, meat, fish and eggs.
By Times Reporters
(Latest Update October 2, 2023)