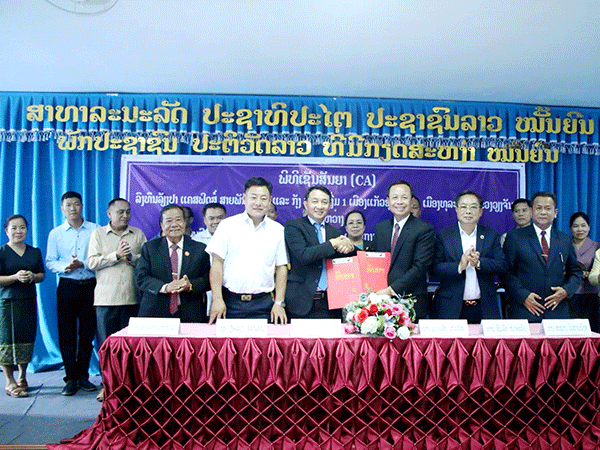 An official from the Department of Planning and Investment in Vientiane province and the President of Agri Lao Co., Ltd. display signed copies of an agreement on catfish and shrimp farming.
Agri Lao Co., Ltd to invest US$40m in catfish, shrimp farms

A Lao-owned aquaculture company, Agri Lao Co., Ltd., will invest US$40 million in the farming of American catfish and shrimp in Keo-oudom and Thoulakhom districts, Vientiane province, for sale to China.
The company plans to carry out the project in collaboration with the public and private sectors, and to sell catfish and shrimp to China and other foreign markets.
The venture will create revenue and jobs for local communities and strengthen the aquaculture industry in Vientiane province and the nation as a whole.
An agreement on the scheme was signed at the Planning and Investment Department in Vientiane province by the President of Agri Lao Co., Ltd., Mr Bounleuth Luangaseuth, and the Department's director, Mr Phoutthasack Keovixay.
The province's television station reported that the project would take place under a 25-year concession agreement. The company will build a processing plant to prepare the fish and shrimp for export, and hand over the project to Vientiane province at the end of the investment period, as specified in the contract.
The agreement authorises Agri Lao Co., Ltd. to carry out the project on an area of 50 hectares in Keo-oudom district and 20 hectares in Thoulakhom district.
The company will execute the project independently and deliver products in accordance with the terms and conditions stipulated in the contract.
The project aligns with the government's strategy to attract foreign investment and expand Laos' export portfolio.
By Times​ Reporters​
(Latest Update November 20, 2023)