PM visits Luang Prabang, Xayaboury to give development advice​

Prime​ Minister​ Sonexay​ Siphandone​ has advised authorities in Luang Prabang province to arrange for the repair of more roads so that tourists can travel around comfortably, as well as ensure that visitor facilities are in good working order during Visit Laos​ Year​ 2024.​​
Meeting with provincial authorities on Friday, the Prime​ Minister​ also suggested that more crops be planted and handicrafts and souvenirs produced for distribution within the province, and as many products as possible be exported.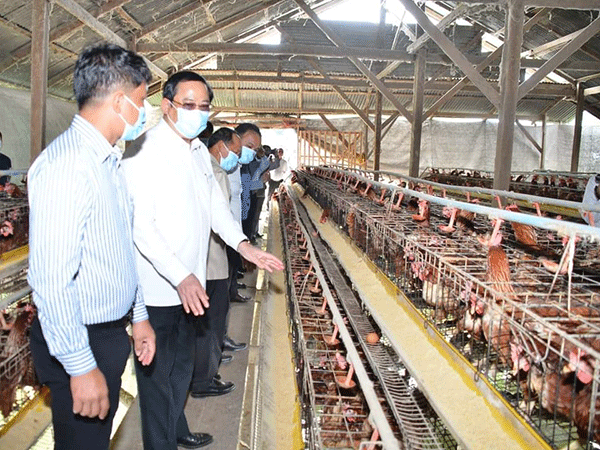 The Prime Minister visited a chicken farm in Luang Prabang.
In addition, authorities were advised to make more progress under the province's socio-economic development plan throughout the rest of this year, so that targets are met or exceeded.
Luang Prabang authorities were also instructed to link up with central government officials to review the progress of approved development projects in the province, to report their findings and to suggest the steps to be taken with regard to projects that are inactive or are active but ineffectual.
Dr Sonexay also reminded authorities to ensure that all financial transactions are fully recorded in accounting systems and more payments are channelled through the banking system, to prevent loss of revenue.
On the same day, the Prime Minister observed the use of modern equipment in the collection of entry fees at the National Museum in the provincial capital.
Luang Prabang is one of the most well-known provinces in Laos and is a top tourist draw because of its riverside location, old temples, quaint streets and alleyways, traditional festivals, and scenic beauty.
The province welcomed more​ than​ 779,000 tourists in the first nine months of this year, an increase of 121.49 percent compared to the same period last year, with tourism-related spending generating more than US$431 million.
Provincial​ authorities hope to attract at least​ one million tourists by the end of this year and for 2.8 million people to visit the province in 2025.
On November 16, Prime​ Minister​ Sonexay​ Siphandone visited Xayaboury​, where he advised provincial authorities to capitalise on ties with other countries and development partners and attract more foreign direct investment.
The approval of proposed development projects should be speeded up, and capital entering the country should be processed by the banking system and foreign currencies converted into kip prior to expenditure.
The Prime Minister also suggested that provincial authorities should continue to develop rural areas and do more to alleviate poverty, implement the government's credit policy in order to stimulate economic growth, and use funds allocated by the government to speed up progress, with a view to creating a solid and sustainable economy.
By Times​ Reporters​
(Latest Update November 20, 2023)