How are village authorities enforcing the lockdown rules?
The number of Covid infections is continuing to rise, largely because many people are ignoring the lockdown rules by holding parties, gambling and travelling to at-risk areas. Vientiane Times asked some village chiefs how they are dealing with the problem and what penalties are being meted out to rule-breakers.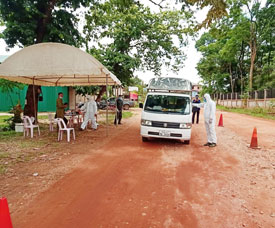 Mr Oudone Siththisack, deputy head of Khamhoung village, Xaythany district: During the pandemic, we have organised guards to monitor security and maintain control. Our village has been designated a red zone after cases of Covid-19 were reported here. We have closed all the streets in the red area and carry out thorough checks on everyone entering or leaving the village. We also try to stop people gathering in groups of more than five for leisure purposes or any disorderly activity. We have patrols that monitor for infringements each day. But we can't prevent such activities because this is a large village and contains several educational institutions, so it's quite hard to maintain control. In addition, some people don't respect the rules and act irresponsibly, which creates problems for the village administration. We have issued warnings to rule-breakers but if they break the rules again we will fine them.
Ms Chansone Xayyavong, head of Naxangphai village, Xaysettha district: Our village has been designated a red zone after many people here contacted the virus. We have set up a taskforce to work with district officials and a medical team to track people at risk of being infected. We have closed off streets in at-risk areas and arranged for guards to be on duty round the clock to prevent the virus from spreading. Even though village authorities are working hard to enforce restrictions, it's difficult to monitor the situation. Some people simply aren't bothered about the lockdown rules and behave irresponsibly. The first time someone breaks the rules we give them a warning. If they do the same thing again we will fine them, but so far that hasn't happened.

Mr Bountha Soukkhavong, deputy head of Dongdok village, Xaythany district: We try to prevent people gathering for parties or to gamble and from travelling to virus-risk areas. As instructed by the district administration, our village has guards who patrol neighbourhoods and check that people are complying with the lockdown rules, especially those living in rented rooms. This village is home to the National University of Laos so it's quite hard to keep a check on everyone going in and out. In addition, village authorities aren't sufficiently focused on the situation, but we urge all villagers to help us prevent any problems.

Ms Phoutphavan Bounyhasith, deputy head of Dongkhamxang village, Hadxaifong district: We are trying to comply with all of the measures introduced by district authorities and the government to keep the virus from spreading. We have informed villagers about the situation and made them aware of the need to protect themselves against the virus though broadcasts that we issue every morning. We also have guards on duty during the day and at night. In general, the people in this village are well behaved. People understand the situation, are quite well informed, and try to follow the lockdown rules. Businesses have helped by making donations to poor families and students living in dormitories. On behalf of the village administration, I would like to thank all businesses for their assistance. At the same time, I urge everyone to continue to follow the rules to protect yourselves and keep everyone else safe.
By Lamphone Pasanthong
(Latest Update June 4, 2021)