How can the government help people in need during the Covid outbreak?
Officials are gathering information on the number of people not covered by social security insurance and those who have been particularly affected by the Covid outbreak. They will then consider ways to provide them with assistance. Vientiane Time asked members of the public for their opinions on this urgent matter.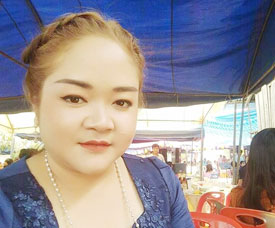 Ms Noy, a resident of Luang Prabang province: Of course, in this situation I think we should do everything we can to fight this virus war. I would like to give a million thanks to the government for finding ways to help poor people. The current situation makes it even more difficult to earn money, especially for people who live hand to mouth, including those who are unemployed. I urge the government to do everything possible to help them. We should all show our concern and band together to help others in this difficult time.

Mr Viengxay Sisouvong, a resident of Xaysettha district, Vientiane: I think it's essential that the government does what it can to help. In my village there are many poor families, some of whom live in groups of 10 or more in small huts. Usually they work as labourers in farming and construction work but now they can't earn any money so their lives are very difficult. To get through this crisis, everyone must come together to share and help in any way we can.

Ms Soutchai, a resident of Sikhottabong district, Vientiane: The current situation is affecting the way we live and many people are experiencing financial hardship, especially those who have no stable work or income. I think the government should help them so they can survive. I call on village authorities to provide information to the government quickly and truthfully so that impoverished families can get some help urgently.
Ms Keoudone Vongsavang, a resident of Xaythany district, Vientiane: Many families need help in these difficult circumstances. Lots of people are out of work and it's very difficult for workers from the provinces now living in Vientiane because they have to pay rent and water and electricity bills, as well as buy food and other essentials. I think some of these payments should be reduced to make things easier for everyone. I urge the general public to donate what they can to help people in need. Vendors should not hoard the things they sell and put up their prices; instead they should donate some of their goods to the needy.

Ms Phoy, a resident of Xaysettha district, Vientiane: I'm glad that the government is showing concern about this matter. I urge the authorities to act quickly and find ways to help people in need as soon as possible. And I would like to ask the authorities how they plan to help people who are homeless or who are beggars or tramps and are forced to live in public parks. It would be good if the government provided some kind of shelter for them and could give them some work. I call on everyone who is able to donate what they can to others, as many people are in need of help right now. In addition, I urge those who can to issue more appeals for public donations. By giving, we not only feel happy and proud but also earn merit.
By Lamphone Pasanthong
(Latest Update May 7, 2021)