How should people demonstrate their family's role?

International Day of Families was observed on May 15, in many countries worldwide, organisations in Laos organised activities to mark this event and campaign public awareness on the importance of family. Vientiane Times asked some members of public for their opinion on how should people demonstrate their families' role.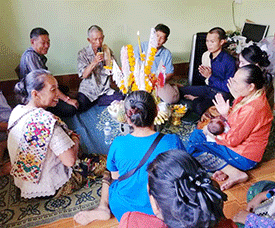 Families in Vientiane have a meal together.
Ms Davan Ketsanouk, a resident of Xaythany district, Vientiane: It's a very good idea to have a special day for families. In my opinion, a family has a very important role in villages, communities and society. As we know, families are the building blocks of society and are very important for the country's development. When families live in harmony and peace, it quickens the pace of development. Development won't be so easy if families have conflicts or problems and cannot improve their circumstances. The family is a small unit but is a very important part of society. On this day, authorities and organsisations should create activities for people to strengthen family bonds and encourage people to get together and talk with each other about development of their families and other issues. However, there is the Covid-19 outbreak at the present and everyone should be aware of protecting themselves and they should follow the prevention measures including wearing masks, practicing social distancing, and washing hands with soap or gel.
Mr Boun, an employee of Sisattanak district, Vientiane: In my opinion, families are basic but very important units that can bring peace, or problems to society, around the world. So, if we want society to be peaceful, to begin with, people should ensure that their families are peaceful. People and should try to keep their family stress free, loved and happy all the time. Everyone should remind their family about peace, solidarity and love. In addition, a loving family can help to reduce or prevent problems and also protect young people from going astray and falling in with a bad crowd. So, the parents of each family should make good examples for their children on behaviour and regularly remind and advise their children. International Day of Families is a good occasion for people to meeting up, converse and enjoy a meal together. Of course, parents should also teach children on the prevention of Covid-19 and protecting themselves. Young people should pay more attention to protecting elders and children from the virus because they are at risk groups.
Mr Khamla, a resident of Chanthabouly district, Vientiane: I think families have very important roles in village and community life. The family unit is also an important measurement for society and it can determine the peace and solidarity among the community. So people should regularly realise their family's role and strengthen their family bonds. More importantly, people around the world should use their family's role to benefit socio-economic development and actively contribute to creating peace and harmony around the world. It isn't a good situation that many families have problems that affect society in both narrow and large circles. It's because people don't use their family's role correctly and don't have good ways to handle problems. If possible, all members of each family should love each other and also spread love to other families. Furthermore, all families should help each other with solving and preventing problems as well as develop and modernise their community and society together.
Mr Touy Singhalath, a resident of Xayaboury province: Families are the most important part of any community and we will all live in peace if families create the right bonds of love and peace. I think many people still don't teach their children about the role of their family and they many if them have problems, so we need people to understand about their role and the importance of family unity. If possible, there should be more advertising and promoting on the role and importance of family via media channels because this will help the public campaign on this matter and encourage people to use their family's role usefully for the a better community as well as helping the country's development and modernisation. Each family should wisely try to avoid and prevent problems to ensure that the society is in peace and order. Otherwise, now there is a new spread of Covid-19 infection, so all families should see the importannce of the prevention and controll of the virus. The members of each family should keep at least two metres from each other to avoid spreading the infectious virus and its effects.
By Visith Teppalath
(Latest Update May 17, 2021)