How can we stay healthy during the rainy season?

Medical experts warn everyone to be on their guard during the rainy season and take extra care to stay healthy. The wet, warm conditions favour the growth of bacteria as well as mosquito populations and can cause a range of illnesses such as dengue fever, diarrhoea, leptospirosis, eye infections, and skin problems. Vientiane Times asked around for opinions on the best ways to stay well.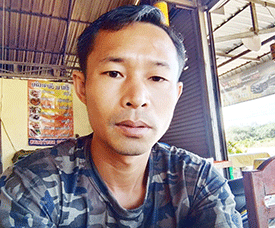 Mr Vixay Padthanaxay, an official in Xaysettha district, Vientiane: Many people in this district suffered from diarrhoea and dengue fever last year. I think this could be because they drink unclean water, eat contaminated food and live in unclean surroundings, and don't understand the effects of all this. This year I hope we don't have any disease outbreaks as we've already got enough on our hands with the Covid-19 epidemic. If other diseases occur, I worry that hospitals will not have enough beds. I think that what we've been doing should protect us against other diseases as well. However, everyone needs to be on their guard against dengue fever and should keep up to date with reports in the media. We need to get the right information about ways to protect ourselves and prevent mosquitoes from breeding. The authorities definitely need to do more in this regard and improve sanitation across the country.

Ms Bounthom, a resident of Luang Prabang province: The rainy season brings many illnesses. Floods can increase the prevalence of water-borne diseases, which can be transmitted through water that is contaminated with human or animal waste. We should drink clean water only. Food must be thoroughly cooked, while waste should be disposed of properly. We must wash our hands before and after eating as well as after using the toilet to prevent pathogens entering our bodies via our hands.

Ms Ket Xayachack, a resident of Xaythany district, Vientiane: There are many illnesses that can affect people and animals in the rainy season, especially dengue, diarrhoea, and influenza. Some of these conditions are dangerous because they can spread very quickly. Although the authorities try to prevent the spread of disease, a lot of people, especially children, fall ill. I think this could be because they don't understand the causes and effects of diseases and so they don't take matters such as cleanliness and hygiene seriously. I think the authorities should provide more advice about ways to prevent diseases, and what to do if you become unwell.
Mr Maikeo Lorvanheuang, a resident of Xaysomboun province: Many diseases spread easily in a humid climate and it's important that everyone pays attention to their health and good hygiene. We should clean our homes thoroughly, especially kitchens and bathrooms, and be careful about what we eat. We should wash our hands frequently and if you live in a flood-prone area you need to be especially careful about cleanliness and hygiene. If you fall ill, you should see a doctor or go to the nearest health facility at once.
Ms Ta Vongvilay, a resident of Vientiane:
I don't know much about diseases and I don't think many Lao people do, and the vast majority who live in rural areas aren't well informed about the causes of illness. But everyone should be careful and try to live healthily. Health officials and doctors should circulate information about diseases, their symptoms, how they are transmitted, and the appropriate treatment. They should also tell people how to guard against common illnesses. And people who are well informed should pass on their knowledge to others so that we can be more pro-active in preventing illness.
By Lamphone Pasanthong
(Latest Update May 18, 2021)