Is it necessary to stay at home to prevent the Covid-19 infection ?

Authorities have urged the public to stay at home and not go out unless it's necessary in order to protect themselves from Covid-19 infection. During this time, officials and employees are asked to work at home and communicate with each other online if possible. Vientiane Times asked some members of the public for their thoughts on this matter.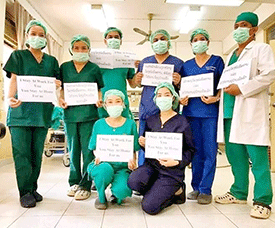 Doctors explain to members of the public the importance of staying at home.
Mr Bounsen Latthanom, a resident of Sisattanak district, Vientiane: I think it is the best way of protecting ourselves and other people from the infection is to stay at home and don't go out if not necessary. I also agree with the advice that officials and staff should work from home if possible because it will help to reduce the risk of infection during the pandemic. Everyone, especially the public should strictly follow the instructions and work together to reduce the risk. As we know now, there are many Covid cases happening in many provinces around our country already so, we should be aware of this matter. More people together means more risk, so we should reduce the number of people in public places.
Ms Vongkeo Sisanouk, a resident of Xaythany district, Vientiane: I agree with authorities to stay in during the spread of Covid-19 infection in our country. Everyone should avoid being in crowded gatherings or getting too close to one another, in order to minimise infection risk. This is a good method for prevention, it is also good that responsible sectors are suggesting to avoid visiting each other but communicate online or via telephone instead. The government and authorities pay well attention on this matter and work hard to campaign in order to avoid the risk and protect the people. Authorities in each village have helped by setting up check points to see who comes in or goes out of that village checking for allowance papers and giving instructions. So, I think people should cooperate with the authorities and follow their rules. Doing this will help to protect yourselves and other people.
Mr Khamty, a resident of Pakngeum district, Vientiane: It's very important to stay at home during the current outbreak of Covid-19. We should try our best to stay safe and the best way is that we should stay at home as much as possible and avoid gathereing with people or in groups. We should also continue to keep a social distance of at least two metres. It isn't good that some people are not aware about the current situation and still go outside. Some people still meet up in groups to talk with each other or do activities together. I have also heard that some people illegally return from neighbouring countries and don't isolate or quarantine themselves for 14 days as the authorities determined. This is very dangerous and high risk to the public. Authorities should strictly inspect the border points for preventing their illegal return. Authorities should also monitor and document them to make sure that they don't have any symptoms to avoid spreading the virus to other people. In addition, anyone who returns or enters from another country should strictly follow the rules and guidelines of the authorities. If anyone breaks the rules or don't follow the instructions, should be punished by the law.

Mr Van, a resident of Hadxaifong district, Vientiane: As well as other people I'm very afraid of the infection and outbreak of Covid-19. This virus is very dangerous and one can die of it if not getting the right treatment. However, there are many methods of prevention including avoiding going out and meeting people or being in large crowds. Going out in the public, meeting people and being in crowded places is the highest chance of infection. So that is why our government and authorities are trying to control the situation and instructing the public to stay in as much as possible. For me, I will stay in most of the time and won't go out unless it's necessary. I also see nurses and doctors instructing people to stay in via the social media, especially on Facebook. So everyone should realise the importance of this matter and work together to prevent the virus from spreading any further.
By Visith Teppalath
(Latest Update May 10, 2021)