What should we do to protect our valuables against theft?
While we are battling the Covid-19 outbreak, we should not turn a blind eye to other untoward situations, especially theft, which seems to be on the rise. The Covid crisis has meant that many businesses have had to close, which means many people are now unemployed and desperate for money. Vientiane Times asked for opinions on what we should do to avoid becoming a victim of theft.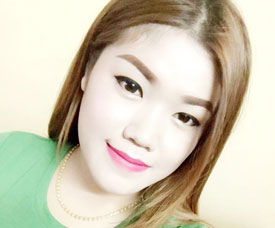 Ms Lily Philavan, a resident of Khammuan province: I always hear about robberies and thefts in towns, especially in Vientiane, and they sound very dangerous. Although the police try to apprehend the suspects, many of them have evaded arrest. Thieves work in teams and appear to be well prepared. They target isolated houses, vehicles parked in dark places, and other types of property that are not secure. At present there are many people who are unemployed so I think this will increase the risk of robbery. I think we should all be more aware of the problem and keep our valuables safe to prevent loss and distress.

Ms Laa Keophomma, a company employee in Xaythany district, Vientiane: I don't know how many thefts occur each day but I have read on social media that many people have fallen victim to thieves. My friend was robbed of a motorbike. He was attacked by a man with a knife as he was driving home at night a few months ago. He had to lose his motorbike so that he wasn't injured. I urge everyone not to go out alone at night if possible. In addition, we should not leave anything in a vehicle, especially if it's parked in an unsafe place. We should all give more thought to protecting our valuables. It would be better if everyone was law abiding and acted more responsibly so that we can make progress and ensure that our country has a good image.
Mr Huck Saphomphone, a resident of Xaythany district, Vientiane: As we know, the coronavirus has had widespread effects, both on the economy and people's livelihoods, and lots of people are out of work. I read in the news that some people in other countries have killed themselves because they were in such a desperate situation. And some people have turned to theft in order to feed and clothe themselves because they have no work and no money. I hope that kind of thing doesn't happen here. I urge everyone to pay more attention to this and to keep their possessions safe. Thieves should be fined or punished in other ways to make sure they don't repeat the offence.

Ms Somphet Sonesackda, an official in Vientiane: I have seen the news about thieves and I know the police are working hard to stamp out this problem but there seems to be no end to it. It's a difficult situation because too many people don't take sufficient care to protect their possessions and leave them in unsafe places. Women often hang their bags on their motorbike handlebars, which is very risky. I think people need to take more responsibility for their belongings. If you go out, you should lock your house securely and put your money in a safe bag or jacket in such a way that it's not obvious. I also think the police should impose harsher penalties on thieves. Everyone should pay more attention to the regulations and cooperate with officials to protect property.
By Lamphone Pasanthong
(Latest Update May 28, 2021)