What are your thoughts on working from home during lockdown?
Employees are being encouraged to work from home wherever possible to prevent the
spread of Covid-19. For many workers, the flexibility of working from home is something they've long desired. But while there are benefits to working remotely, there are also some challenges.
Vientiane Times asked for opinions on this new working style.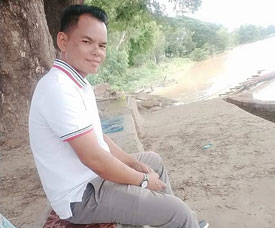 Mr Phonvilay, an official in Savannakhet province: This isn't something new because we all had to do it during the lockdown last year. It's all part of the changes we are having to make to keep the virus in check. I am happy working from home because it means I don't have to waste time travelling to my office. It normally takes me at least an hour to get to work because my house is a long way from my office and there are often traffic jams. Working from home means I need a good internet connection but my network is quite slow. I'm not sure why the internet networks in Laos are so slow. Maybe it's because more people are online these days. The authorities should improve the quality of networks to support online working to make things easier for everyone.
Ms Kinnaly Sisouvanh, a resident of Vientiane: It's very important to stay at home during the Covid-19 outbreak. But working at home is not something that everyone can do. I work in a garment factory so obviously I can't work at home. So during lockdown I'm growing some vegetables and raising livestock. I'm also doing some farming because it's now the rainy season. But I think that wherever we are, we should do all we can to protect ourselves and adopt good hygiene practices.
Ms Noychinda, a teacher in Xaythany district, Vientiane:
Although classes have stopped, some days I go to school to give classes online. I give lessons and set homework for my students every day. For me, working from home has not been a problem because we got used to it during the lockdown last year. I think working from home is better than going to school because it keeps us safe from the virus. In addition, it saves me money as I don't have to buy so much petrol. I also have more time for my parents and can do other work at my house. I encourage everyone to cooperate with the authorities and follow their instructions. Doing this will help protect everyone and save the country from a crisis.
Ms Sansany, a worker in Pakngum district, Vientiane: I think staying at home is the best way to protect ourselves and other people from infections. I agree with the advice of the government abut working from home because it will help reduce the risk of getting infected and slow the spread of the outbreak. For some people, it's a good thing but not for me because my work can't be done from home. If we stop working, it means we don't get paid. During the first lockdown last year my debts mounted and now the same thing's happening again this year. I have very little money to buy food and other essentials. I'm worried about what will happen if we have to stop working for a long time. It would be good if employers could pay our salary in advance when we do go back to work.
By Lamphone Pasanthong
(Latest Update April 29, 2021)