What can be done to cope with the effects of weather extremes?
The rainy season brings torrential downpours and storms, when strong winds play havoc with flimsy structures, ripping off roofs and putting lives at risk, while floods are all too common. Vientiane Times asked people how we should deal with these conditions, which occur every year.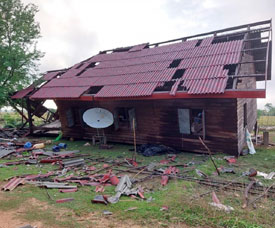 Mr Vanhmixay Vilaivanh, an employee in Naxaithong district, Vientiane: Of course, no one can stop the weather but we should all be better prepared. We should pay more attention to weather forecasts and do as we are advised so that we don't suffer unnecessarily. These days it's very easy to get information about the weather as it's on Facebook which we can access on our smartphones. But I think more practical advice could be provided in the event of weather extremes so that less damage is done.

Ms Mettar Sonesackda, an employee in Xaythany district, Vientiane: No one wants to have to deal with aftermath of weather extremes but it's something we can't control. Now that it's the rainy season, people in my village, which is near a river, must be on their guard at all times. I think we should be better prepared to prevent problems that come with floods. To reduce the extent of damage caused, the authorities should have sound plans in place to protect people. This should include better weather forecasts that track river levels. We also need barriers to protect people against flooding rivers and more drainage channels that can drain off floodwater, as well as quick responses in the event of an emergency.

Mr Samlan Thammavongsa, an official in Vientiane: The weather tends to be more extreme than in the past. To ensure we are safe during a storm we should stay indoors until strong winds have passed. If we are outdoors, we should stay away from potentially unstable structures such as trees, billboards and electricity poles so that we don't get crushed if they should fall. It's also important for everyone to pay attention to weather forecasts so that we are prepared, protect our belongings, and can stay safe when a storm hits.
Ms Phoutsady, a resident of Luang Prabang province: Natural disasters are beyond our control. This means we must be prepared at all times and make sure our houses and belongings are protected. In addition, the government bodies responsible should improve their response so that weather-related emergencies are better handled. If there isn't a good system in place, severe flooding can occur at any time and the effects can be pretty terrible. We also need a good system in place to help people who have been affected by weather extremes, both in the short- and long-term, and provide them with financial and other support.
An official at the Ministry of Natural Resources and Environment: We issue daily weather reports on our Facebook page and on the radio. But we can never be sure that this information is reaching everyone, so we need other media bodies to pass the message on in other ways so that people are better informed. We urge everyone to keep track of weather updates so that people are not caught unawares and suffer as a result.
By Lamphone Pasanthong
(Latest Update May 21, 2021)