What can be done to prevent the spread of disease among animals?

The import of meat and cattle products has been banned after an outbreak of lumpy skin disease in some countries. The virus has also been found on a cattle farm in Naxaithong district, Vientiane. Officials have banned the transport of cattle around the country until June 30 in a bid to stop the disease from spreading. Vientiane Times asked people about ways to protect animals against infectious diseases.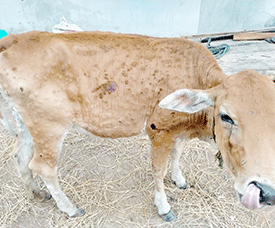 Mr Someboun Insavatdy, a resident of Xayaboury province: I hear about the spread of contagious diseases in our region and neighbouring countries almost every year. Sometimes the outbreaks are severe, resulting in widespread losses of cattle and poultry. There are many types of animal disease in Laos and sometimes they are serious. I think we should regularly and closely follow the news about disease outbreaks and take adequate steps to protect our animals. We should follow the instructions of doctors and authorities in this regard. Some people ignore these instructions and continue to eat beef or poultry that many be diseased, while others are simply not aware of the problem. We should make sure that our pets and other animals are vaccinated on a regular basis.

Mr Lock Chanthavong, a resident of Xaythany district, Vientiane:
We should pay more attention to hygiene. It's not good that most people never talk about keeping their animals clean and vaccinated. We should take better care of animals' health and make sure we don't catch any viruses from them. It's dangerous that many people live in close proximity to their animals but do not understand the risks they run.
Ms Chanpheng Keobounma, a resident of Vientiane province:
I think animal diseases should not be ignored. There are many kinds of animal diseases in Laos and sometimes they can be serious. We should pay attention to the news so that we know if there's a disease outbreak and can take adequate precautions. And of course if there is an outbreak we should follow the advice given by vets and other specialists. Some people eat infected beef or poultry without being aware of the harmful consequences. We should also get our animals vaccinated and should immediately inform the authorities if our animals fall ill, to prevent the infection from spreading.
Mr Vorachit, a resident of Savannakhet province:
To prevent the spread of animal diseases we need more publicity about the need to vaccinate animals, especially poultry and cattle. It's good that the authorities encourage annual vaccinations against diseases but there should be more advertising in the media to raise awareness about these diseases, some of which can spread to humans. Doctors and others responsible should circulate information and alert the public promptly when there's an outbreak of any disease.

Ms Khamnang Sinthamixay, a resident of Xaythany district, Vientiane: Animal diseases can spread rapidly, which is scary. In the past, there were fewer reports of disease outbreaks. It would be good if everyone is made aware of the diseases that can occur and ways to prevent them spreading from animals to humans. Every animal, including cattle, poultry and our pets, is at risk of picking up an infection of some kind. If we don't protect them, who will? We should get them vaccinated each year and plan a trip to a veterinarian if they fall ill.
By Lamphone Pasanthong
(Latest Update June 9, 2021)