What did you do during the Pi Mai Lao holiday?
People nationwide enjoyed celebrating Pi Mai Lao (Lao New Year) from April 14-18. This is the most important event on the Lao calendar and is a time of merry-making and the observance of age-old customs. Vientiane Times asked around to find out how some people spent the much-anticipated holiday.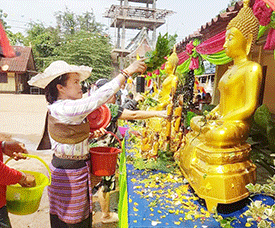 Mr Ounheuan Sipaserth, a resident of Xaysettha district, Vientiane: I had a great time. Everything was a lot of fun and everyone dressed in colourful clothing as they always do at Lao New Year. Like most other people I took part in many activities and went to temples to pour water on Buddha images, to make merit and to ask for blessings, because I believe that doing good things will give me a better life and improve my work situation. I also attended small baci ceremonies organised by my relatives. But I didn't forget to maintain a safe distance from other people and not drink too much. Too many people drive after drinking which makes the roads dangerous. Also, it isn't good that some people don't celebrate the new year in the traditional way and don't dress properly when visiting temples or pour water over other people in a way that's considerate.
Ms Xay Keovilay, a kindergarten teacher in Vientiane: My first thought was to go home to my family but I was afraid there might be a lockdown so I decided to stay in Vientiane. At my school we held a baci ceremony and after that I spent the three days of Pi Mai Lao in Vientiane having fun with my friends and visiting their families. This year we didn't celebrate that much but it was better than last year when we couldn't even leave our village because of travel restrictions. I think the downsized celebrations this year were a good idea because it meant people didn't spend too much money and there weren't too many road accidents. I'm happy that people care enough about Covid-19 to want to keep our country safe.
Mr Visa Thammixay, a university student: I went home and celebrated with my family in Oudomxay province. It was very quiet there. People attended traditional ceremonies with their families because they weren't allowed to gather in large numbers in order to prevent the spread of Covid-19. But I enjoyed it because I and my family don't have a lot of money and I think it's unnecessary to celebrate too much. Three days are too long to spend drinking and anyway I don't like drinking that much.

Mr Bounthavy, a resident of Khammuan province: The holiday was a time for families to get together and take part in traditional rituals such as pouring perfumed water on Buddha statues in our homes and asking for forgiveness from our older relatives. My family had a small party and took lots of photos. We avoided crowded places as we didn't want to run the risk of catching Covid-19 and we didn't want to mix with people who were driving after drinking.
Ms Chan, a resident of Borikhamxay province: I had a very good time with my family, doing things the traditional way. The celebrations everywhere were orderly and peaceful and everyone had fun. It was good that the authorities actively protected people by imposing restrictions to prevent the spread of Covid-19 and controlling the price of food on sale in markets. They encouraged everyone to celebrate the new year responsibly. The police were also on the streets to prevent inebriated people from driving and to forestall any other anti-social behaviour. I think everyone enjoyed the new year and that it was both fun and safe, despite the restraints.
By Lamphone Pasanthong
(Latest Update April 19, 2021)