What can we do to prevent an outbreak of Covid-19?
Even though the Lao New Year celebrations were muted due to restrictions imposed due to Covid-19, nine new cases have been recorded since April 10. The most recent people to contract the virus were workers returning from Thailand. Vientiane Times asked members of the public for their thoughts on what should be done to prevent the virus from spreading.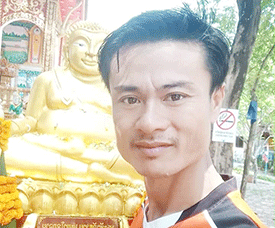 Mr Thiewsavath Thanonxay, a resident of Xaysettha district, Vientiane: I know that everyone wants to meet up with their families over Lao New Year but I think travel restrictions should have been imposed, especially for people coming from virus outbreak areas, to protect those wanting to travel and their families. It's no joke if people return home and then pass on the virus to their families. We need to do a lot more to protect ourselves and the country. Everyone needs to have a greater sense of public responsibility and put the good of others ahead of their personal interests.

Mr Tai, an official in Naxaithong district, Vientiane: I'm very concerned to hear that nine more people tested positive for Covid-19 over Lao New Year. Even if they've come from other countries, it's not good news for Lao people. I hope no one else tests positive, especially the people who came into close contact with them. I think we should do more to protect ourselves and adapt to a new normal way of life. I try to wash my hands with soap, wear a face mask, and maintain social distancing when I go out and avoid crowded places to protect both myself and other people.

Mr Khampan Ninthakhan, a resident of Saravan province: I make a serious attempt to follow the rules about preventing the spread of Covid-19. I don't go anywhere much because I'm busy farming and tending to my cattle. But I'm concerned about the number of people entering Laos illegally. I know that many people have returned to Laos by crossing the border illegally. Some people have quarantined at home but some have not bothered to do this. I urge the authorities to look into this issue and exercise controls. Households should inform village authorities if a family member enters Laos illegally, so that we all do whatever's necessary to prevent the virus from spreading.

Ms Bonma Bounthan, a resident of Luang Prabang province: I have heard that nine more coronavirus cases have been identified which is bad news for Lao people and our country. I'm worried that there could be an outbreak here because many people don't seem to care about the virus any more. I think we should seriously comply with the prevention measures set in place by the authorities. We should try to change our behaviour and adopt new practices to ensure we don't fall victim to the virus.
Ms Nom Souliyatham, an official in Sangthong district, Vientiane: I'm very sad to hear that these new infections have occurred because I planned to attend a wedding this week. But the authorities have tightened virus prevention measures, which will remain in force until the end of this month. This means a lot of events will have to be cancelled or postponed. I think everyone needs to act more responsibly and be more considerate, especially those who live in at-risk areas and want to return to their hometown. People should comply with the law and not attempt to enter Laos illegally. And everyone should follow the government guidelines to protect themselves and other people.
By Lamphone Pasanthong
(Latest Update April 20, 2021)