What should be done more to protect workers amid Covid-19?
International Labour Day was marked Saturday (May 1). Concerned sectors mark this occasion and promote the role and rights of labourers particularly those that work in factories and construction. Many workers are suffering the effect of the Covid-19 pandemic. Many workers have stopped working and have difficulties to find things to do. Meanwhile many of them are jobless. They want the government or responsible authorities to help with this matter. Vientiane Times asked some members of public for ways to protect workers during the Covid-19 spread.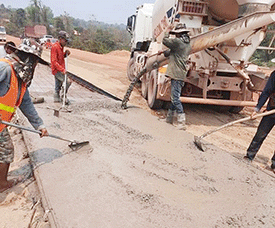 Labourers work at a road construction project.
Mr Amphone Vannasy, a resident of Sikhottabong district, Vientiane: I think it's necessary to protect labourers in our country particularly Lao nationals during the Covid-19 pandemic because many of them have to pause or stop working and don't have salary or income to spend for daily living. Many workers are also jobless and can't find work due to the spread of the virus and they need assistances from the government or responsible sectors. So the government or responsible sector should come up with a way to help the workers such as enforce the employers to continue to pay the salary to their workers during the Covid-19 outbreak, finding a job for those who are jobless or setting a fund aside for workers so they can survive in these difficult times.
Mr Neung, a resident of Sisattanak district, Vientiane: It isn't a good image that I see many people especially labourers who work in construction becoming jobless during the sored of Covid-19 in our country. Many people who work in service units such as tour companies, hotels and restaurants are also pausing their work and don't have jobs to go to. So it's very important for the government and responsible sectors to help these labourers to find a solution. As we know the Covid-19 pandemic affects people in all professions and the entire country. Many people in our country especially in Vientiane complain about the effects of Covid-19 on their daily lives and they want the authorities to help them out somehow. Otherwise, I think there should a better system of worker protection. For making a better system on protection the labours in our country the government particularly concerned sectors should strictly check the organisations and companies to see if they have a system to protect their employees or not and those which don't have any yet should be encouraged to have one. The Concerned authorities should also use the law effectively to force the employers to have a good system to protect their workers during the continuing pandemic.
Ms Sengmany Keovongxay, an employee in Hadxaifong district, Vientiane: I think, there should be more things done to help and protect labourers in our country amid the Covid-19 outbreak. All labourers and workers who don't have jobs need help. Generally many employers still don't have a good system to protect their employees. Many employees particularly workers who work in construction are not as well protected as they should be. It's good that our government and concerned sectors have tried to improve, develop, and protect our labourers and workers in all aspects. If compared to the past, our labourers are now much more developed with work skills and in many other work related aspects. Our labours also can compete on regional and international levels. It's also good that many organisations and companies have systems for the protection of their employees, including social welfare and insurance. However, it isn't sufficient enough because our labourers especially workers who work in factories and construction don't have much chance to benefit from their role and rights. Another issue, the starting salary for Lao labourers is still low compared to the current high cost of living. Of course, they still need assistance from the government and concerned officials on solving the current problems and protecting them especially amid the spread of Covid-19.
Mr Somboun Sivilay, a resident of Xayaboury province: I am a labourer working in construction. Before the Covid-19 outbreak, I worked in Vientiane and it wasn't difficult to find a steady job because there are many construction projects hiring workers. Unfortunately, now I am jobless because I can't travel to Vientiane and find jobs to do as most of the projects and companies have paused or stopped their projects. Being jobless affects my family in many aspects because we don't have enough income for utilities or for our daily living. On behalf of the jobless workers I want the government and responsible sectors to help us. Otherwise, in my opinion labourers in Laos, either officials or private employees still don't have a good protection system. It would be better if all organisations, companies, and construction projects improved their systems for protection of their workers, especially in these difficult times like the present. They should ensure financial security and workplace safety for their employees. In addition, many organisations and companies don't have social welfare or insurance for their employees or workers and this always causes them to be at risk. Moreover, labourers who work in the construction sector still have more risks than other fields and they need a good protection system provided by their employers with the assistance form concerned authorities and the government. If there is a good system for workers protection, the effects from the Covid-19 pandemic would be less stressful than it is now.
By Visith Teppalath
(Latest Update May 3, 2021)