What is life like for medical staff dealing with the Covid outbreak?

The number of people who have contracted Covid-19 over the past 14 months has risen to more than 1,300, most of whom are now under observation or receiving treatment in hospitals. Life has changed drastically for medical staff who are fully engaged in efforts to curb the epidemic. Vientiane Times talked to doctors and nurses about their experiences and the challenges they face.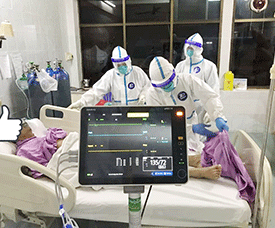 Dr Manichanh Thongsna, Head of the Infectious Disease Department, Mittaphab Hospital: On behalf of all medical workers and as the leader of the Covid patient team, I would like to thank the government and our leaders for supporting us in our work. In addition, we are also receive helping of the expert teams from niegbouring countries. We have an active team that is unified through the same principles and selflessness which enables us to fight the virus war. Along with the conveniences there are also challenges, mostly the shortage of medical staff and beds. If we continue to see a rising number of patients, we won't have enough staff or beds. Another issue is that some members of the public do not cooperate with medical teams. It is most important that everyone who tests positive for Covid-19 and people in at-risk groups are honest and give accurate information to health authorities so that their contacts can be traced. This will ensure that everyone is attended to in the appropriate way so the outbreak can be contained.

Dr Thongkham Khathavong, member of a vaccination team: Many more people have attended vaccination centres following the surge in new infections. The government has accelerated the rollout of vaccinations so we have organised teams and set up a mobile unit to provide vaccinations for target groups and the general public. The vaccination programme has been expanded to cover more target groups and some people have now had both doses. However, I urge everyone to remain vigilant and to strictly observe virus prevention and control measures, whether or not they have been vaccinated. If you have come into contact with an infected person and want to get vaccinated you must first quarantine for 14 days. This will ensure that you do not spread the virus while visiting a vaccination centre.

Ms Phengphanh Bounphayong, a nurse: I'm part of a team working at Mittaphab Hospital and am proud to be one of those helping to fight in the virus war. Of course, we are putting ourselves at risk because the virus is highly infectious. Everyone on our team has been trained in how to work safely and reduce the risk of infection. Even though we work hard every day, it makes us smile when we see so many people recover from the virus. I urge everyone to work together to ensure we all stay safe and can stop the spread of the virus so that our lives can return to normal.

Dr Chaiphachan Sitthimorada, member of a vaccination team: I'm working alongside government officials and members of the public under the direction of the Ministry of Health. There are numerous teams carrying out vaccinations at several locations. We encounter good things and downsides during the course of our work. One of the problems is that it's impossible to enforce social distancing because vaccination centres get very crowded, which increases the risk of spreading the virus. The second problem is that some people don't bother to comply with virus prevention guidelines. These things make it difficult for us. I urge everyone to take more care and to pay attention to the advice given by our team and the Covid-19 taskforce.
By Lamphone Pasanthong
(Latest Update May 12, 2021)