What should be done about people who publish fake news on social media?
Even though there are laws in place to prevent online scams and the posting of misinformation on social media, some people fail to comply with the law and continue to circulate fake news, which creates unnecessary alarm among the general public. Vientiane Times asked around for people's thoughts on this disturbing issue.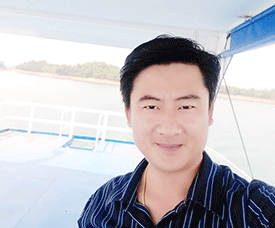 Mr Serd, a resident of Vientiane: Since the pandemic began there have been many online posts and fake reports about the number of people who have contracted the virus as well as lots of other untruths. These false reports cause distress and confusion. I don't know whether there are laws in place to clamp down on wrongdoers but the authorities should monitor the situation to punish those who deliberately use the internet with malicious intent. Everyone, particularly social media and Facebook users, should be very careful when reading, sharing or commenting on news posted online. If we're not sure whether something's true or false, we should read the news published by state media organisations.
Mr Phousoy Sipaseth, an official in Champassak province: I have heard about this and know that the authorities have warned or arrested some people who posted fake news on social media which discredited or gave a bad image of other people, companies or organisations. I know that news posted on social media travels very quickly compared to official media, but it carries a high risk of being incorrect because the facts aren't checked. The bodies involved should issue more warnings about this. Social media followers should be aware of the risks and read posts with a critical eye, while those who post fake reports should be penalised in line with the law.
Ms Vieng Vongthongdam, a resident of Xaythany district, Vientiane: Some people think it's fun to make stuff up and post it, knowing it will get a strong reaction. I would like the government to better regulate the posting of fake news and encourage users of social media to stop liking and sharing things that might be untrue. In particular, action should be taken against those who post things that undermine the leadership of the Party. I would like the authorities to fine people and impose other penalties on those who deliberately spread misinformation.
Ms Thaen Sengaloun, a resident of Sisattanak district, Vientiane:
A lot of fake news is posted and shared on social media without consideration for others, which causes distress and annoyance. I would like the government to set up a special unit to check the sources of false rumours and to arrest those who engage in this scurrilous activity. I also advise everyone to read and share news sourced from the government, ministries and official organisations. They shouldn't share items from users who may have a large number of followers but don't have any authority.
Mr Houmphan, an official in Xaysettha district, Vientiane: I think it's very important to be careful when using social media because it has both advantages and disadvantages. It's essential to stop the reporting and distribution of false news online and everything that is damaging to people and our country. The law should be enforced to put a stop to this problem. Everyone who knows about the matter should pass on the message to those who don't, and people shouldn't violate the law in this way.
By Lamphone Pasanthong
(Latest Update May 24, 2021)