What did you do to celebrate International Children's Day?
People usually do something special with their children to mark International Children's Day. But with normal life around the world affected by the Covid-19 pandemic and with Laos under lockdown, Vientiane Times asked members of the public to find out what they did to celebrate the day this year.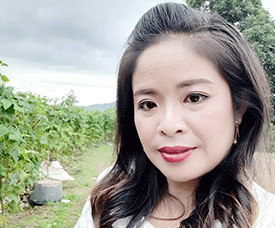 Ms Vilaivan, a resident of Luang Prabang province: We cleaned the house together and did some fun activities at home. I think it's better for children to do things with their family and get some special attention from their parents, rather than going out to do something. We didn't go anywhere because we want to stay safe while the Coronavirus is still a problem. And we also need to save money after being out of work for almost two months. Now our country is facing a new wave of infections and a fresh lockdown, and so we need greater awareness to protect ourselves and to respect all regulations that can help authorities tackle this crisis as quickly as possible.

Ms Noud, a resident of Borikhamxay province: I planted trees in our garden to teach my children the importance of trees, forests and nature, and explained to them how to care for the trees we planted. It's good to teach children about the need to protect the environment and to create green spaces. As we all know, the world is getting warmer every day. I urge all parents to explain to their children the importance of trees and forests, so that they carry this knowledge with them into adulthood. Tree planting is essential to increase forest cover in Laos, and to help mitigate the impact of climate change and to protect biodiversity. I think this is something that children can both enjoy and learn from.
Ms Chanthone Virailath, an official in Xaysettha district of Vientiane: We didn't do special activity. It was like any other day and my children didn't pay any attention to this. I know such days are very important for them. They don't ask for anything from me because they understand the prevailing situation and the need to prevent the spread of the Coronavirus. We had a good opportunity to do many things together while we stayed at home for more than a month.
Ms Sor, a resident of Xaythany district in Vientiane: Children's Day is one of the best days of the year for kids and it should be a time for fun, excitement and joy. It's also worth remembering that making this day special doesn't have to be expensive. So, I think instead of buying the children gifts, we can share activities such as arts and crafts with them. Consideration and care from the family is the best gift for children. This year, I let my children clean around our house and taught them ways to care for trees and some plants in our garden to also mark the National Arbour Day. We didn't go anywhere because there is a lockdown. I know it wasn't fun for them because they have been at home for more than a month. Of course, we still need to respect the rules and observe social distancing. However, my children understand the importance of all this.
By Lamphone Pasanthong
(Latest Update June 2, 2021)