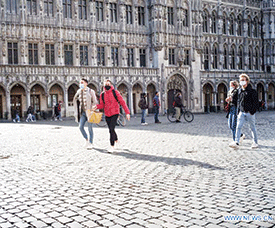 US President Donald Trump and DPRK top leader Kim Jong-un shake hands before their one-on-one chat during the second US-DPRK summit at the Metropole Hotel in Hanoi, Vietnam.
Kim, Trump end second summit without deal in Hanoi, Vietnam

(China Daily) -- Top leader of the Democratic People's Republic of Korea (DPRK) Kim Jong-un and US President Donald Trump on Thursday started talks in Hanoi, Vietnam for the second day of their second summit.
Kim and Trump cut short their second summit Thursday without reaching an agreement, and both leaders left their Vietnam meeting early and canceled a planned signing ceremony.
Beijing said on Thursday it hopes dialogue between Pyongyang and Washington will continue after the two sides failed to reach an agreement at their summit in Vietnam.
Foreign Ministry spokesman Lu Kang told a regular news briefing that China hopes the Democratic People's Republic of Korea and the United States will respect each other's reasonable concerns and continue to show sincerity.
China is willing to continue to play a constructive role, he added.
Kim and Trump began the meeting at 9:10 am (local time) at the Sofitel Legend Metropole Hanoi in the Vietnamese capital for one-on-one talks.
At 10:00 am, Trump and Kim emerged in the Metropole hotel's pool garden, where they were joined by US Secretary of State Mike Pompeo and a senior official of the Workers' Party of Korea Kim Yong-chol. The group then went into another room and sat down around a table for more talks.
US President Donald Trump said again on Thursday that he is in "no rush" with the DPRK, suggesting a long road ahead to denuclearisation.
"Speed is not that important. To me, I very much appreciate no testing of nuclear rockets and missiles," he said at the start of one-on-one talks with Kim Jong-un, top leader of the Democratic People's Republic of Korea.
"Again, I am in no rush. We don't want the testing, we've developed something very special with respect to that," he said.
On Wednesday, Kim and Trump held around half an hour of one-on-one talks, the first day of their two-day summit, which was followed by a small group social dinner also involving their top aides.
Trump touted "great meetings" and "very good dialogue." Kim said he would do his best to produce a "great outcome" to be welcomed by all people.

(Latest Update March 1, 2019)