PM tells Oudomxay to scrutinise developments
Prime Minister Thongloun Sisoulith has asked Oudomxay provincial leaders to scrutinise private investment projects in detail so that economic growth in the northern province can be driven by high quality developments and programmes.
The premier gave the advice on April 12 during a visit to the province in which he met with provincial governor Dr Khamphanh Pheuyavong and many other senior officials. He told all present that investments must meet the developmental needs of the province.
Only fully qualified investors who have good investment backgrounds, experiences and sufficient technical expertise should be given contracts to facilitate infrastructure projects, he told the meeting.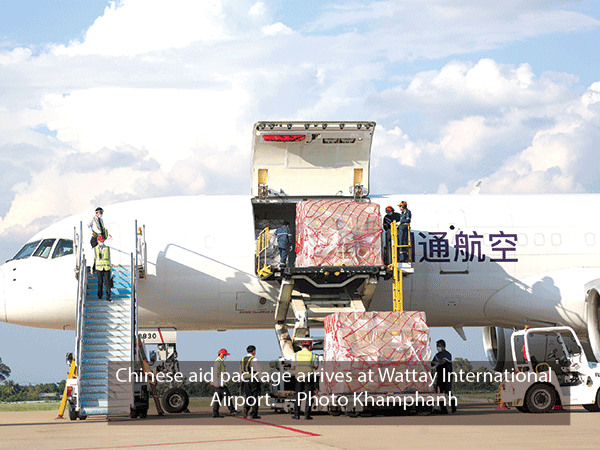 The PM advised provincial officials to create conditions that will help facilitate business operations and activity. He said a rule based system must underpin provincial operations and any issues which arise must be dealt with in a transparent and fair manner.
The provincial leadership team was told to concentrate on capturing the untapped potentials of Oudomxay province and to seek creative ways to respond to challenges as they arise. He said this was especially necessary as the province draws up a new development agenda.
The premier called for proper and efficient management of lands, especially along the Laos-China railway, so that they are allocated correctly and used in a way which benefits the greatest number of people possible. The PM said the province needs to make greater effort in resolving many social issues. He said illegal drug manufacturing and trade, addiction, theft and violence are issues which need particular attention in the province.
Greater attention should be given to poverty alleviation too, the PM said. The people of Oudomxay deserve access to modern production methods and assistance with finding the best buyers for their products.
PM Thongloun also praised the province for the many achievements it has made over recent years.
Dr Khamphanh told the premier that Oudomxay province has enjoyed social order and security for many years. He said the province recorded growth of 7.23 percent in its GDP last year, meaning an extra US$ 1,388 (about 12 million kip) went in to the pockets of each adult citizen.
24.8 billion kip revenue was collected during the first quarter of 2019 which meets expectations 100 percent.
Dr Khamphanh said more works are planned to alleviate poverty in the province. He acknowledged that 37 percent of villages in the province remain categorised as poor.
On April 13, the premier and his entourage visited the Laos-China railway construction site in Xay district.
126.6 km of track will run through Oudomxay. Nine stations are planned in all. Namor, Xay and Nga districts will have the first three stations up and running. 6 others will follow at a later date. The track work in Oudomxay will require construction of over 60 bridges that will total 12.7 kms in length. This is 34 percent of the total bridge work to be done in the entire country.
32 tunnels with a combined length of 84.9 km will mark the Oudomxay section of track. Almost half of all tunnels for the track will be found in Oudomxay province. 50 km of tunnels have now been completed. This is 58.7 percent of all the tunnels to be made in the province. PM Thongloun praised the progress made on the rail construction in Oudomxay province.
He called on authorities to place great attention on the quality of constructions and to make sure works are progressing as planned. The entire track is expected to be fully operational by 2021.
PM Thongloun also toured organic farms, handicraft production groups and visited a wood processing plant while in the province. He and his wife, Naly Sisoulith, also attended a grand ceremony to kick off Lao New Year celebrations on April 14.
By Times Reporters
(Latest Update April 18, 2019)