China pledges to provide US$1.5 bn to help Asean respond to Covid-19

China has announced it is ready to provide Asean with an additional US$1.5 billion of development assistance in the next three years to support the 10-nation bloc's fight against Covid-19 and economic recovery.
The Chinese Ambassador to Asean, Mr Deng Xijun, highlighted his country's offer of assistance while recently speaking on the occasion of the Asean-China Special Summit to commemorate the 30th anniversary of dialogue relations between the two sides. According to the ambassador, China is also ready to donate an additional 150 million doses of Covid-19 vaccines to Asean countries and contribute an additional US$5 million to the Covid-19 Asean Response Fund.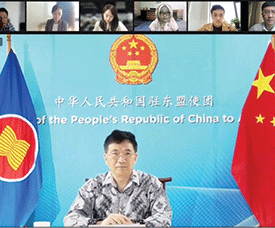 The Chinese Ambassador to Asean, Mr Deng Xijun.
In addition, China is keen to work with Asean countries to jointly build a "health shield" for the region and step up joint production of vaccines and technology transfer, as well as collaborate on research and development of essential medicines.
"China is ready to import more quality products from Asean countries, including buying up to US$150 billion worth of agricultural products from Asean in the next five years," he said. Despite the Covid-19 pandemic, Asean and China were each other's largest trading partners for the first time during 2020.
From January to October this year, Asean-China trade totalled US$703.34 billion, up by 30 percent year-on-year, and accounting for 14.4 percent of China's total foreign trade. Trade between the two sides continued to maintain strong growth momentum despite the pandemic.
Two-way investment was booming and exceeded US$310 billion as of June this year, in cumulative terms.
Asean has become one of China's major outbound investment destinations and a source of foreign direct investment. Cooperation has also expanded in sectors such as manufacturing, agriculture, infrastructure, hi-tech, the digital economy, and the green economy.
The two sides jointly promoted the signing of the Regional Comprehensive Economic Partnership (RCEP) in November 2020, marking a new milestone in regional economic integration.
They also pushed forward the ratification of the RCEP, and successfully ensured that the agreement will officially enter into force on January 1, 2022. This will result in the creation of world's largest free trade area.
Under the framework of the Belt and Road Initiative (BRI), trade and investment between Asean and China has been expanding. The two sides made a historic breakthrough by becoming each other's largest trade partner, and two-way cumulative investment has exceeded US$200 billion.
Steady progress has also been made on a number of landmark projects under the BRI, delivering benefits to people in the region.
The Laos-China Railway is expected to become operational next month, and it will transform Laos from a landlocked country to a land-linked hub. Nearly 80 percent of the construction of the Jakarta-Bandung high speed railway in Indonesia has also been completed.
By Times Reporters
(Latest Update November 26, 2021)