Failure of rich nations to share COVID vaccines 'coming back to haunt us': former UK PM

LONDON (China Daily) -- The failure of wealthy nations to get vaccines to the developing world is "coming back to haunt us", former British Prime Minister Gordon Brown has warned.
Writing in an op-ed in the British newspaper The Guardian published recently, Brown, the World Health Organisation (WHO) ambassador for global health financing, said the new Omicron coronavirus variant is no surprise when rich countries are hoarding vaccines and warned of "vaccine apartheid".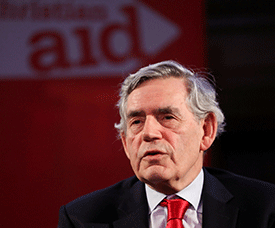 Former British Prime Minister Gordon Brown speaks during a Christian Aid Week event in London, Britain, May 12, 2019.   --Photo/Agencies
He said there had been embarrassing failures to meet promises on fair distribution of vaccines by the West, highlighting figures that show only 3 percent of people in low-income countries are fully vaccinated compared with more than 60 percent in the rest of the world.
In June, British Prime Minister Boris Johnson promised Britain and other Group of Seven (G7) countries would use their surplus vaccines to help immunise the whole world. In September, at a summit chaired by US President Joe Biden, a December target of 40 percent vaccination was set for the 92 poorest countries.
"Two and a half months on, there is little chance of this target being met in at least 82 of them. By Thursday the US, which to its credit has been responsible for half the vaccines donated, had still delivered only 25 percent of the vaccines that it promised," said Brown.
"The arithmetic of failure in the rest of the world is even more embarrassing. According to (British research firm) Airfinity, the European Union has delivered only 19 percent, the UK just 11 percent and Canada just 5 percent," he added.
Brown said the wealthy nations can act quickly.
"As of today, 500m (million) unused vaccines are available across the G7. By December, the figure will rise to 600m (million), and by February, it will be 850m (million) vaccines, which can be sent to the countries in greatest need. At the last count, the US has 162m (million) vaccine doses it could immediately deliver to the rest of the world, a figure that grows to 250m (million) next month; Europe currently has even more: 250m (million), which by February could exceed 350m (million). The UK has 33m (million) vaccines -- expected to rise to 46m (million) over the next three months," he noted.
"In the absence of mass vaccination, COVID is not only spreading uninhibited among unprotected people but is mutating, with new variants emerging out of the poorest countries and now threatening to unleash themselves on even fully vaccinated people in the richest countries of the world," Brown said.
Another nine cases of the Omicron variant have been detected in England and one in Scotland, bringing the total number of people with the strain identified in Britain to 32, British health authorities confirmed Wednesday. So far, 22 cases of the Omicron variant have been identified in England and 10 in Scotland, the UK Health Security Agency (UKHSA) has said.
The WHO declared last month the latest variant B.1.1.529 of SARS-CoV-2 to be "of concern", its most serious level, and officially gave it the Greek name Omicron. The WHO has asked countries to enhance surveillance and sequencing efforts to fight the new variant.
Scientists are still unclear whether existing antibodies would react well to Omicron, which has 32 spike protein mutations, more than previously found variants.

(Latest Update December 6, 2021)