Tourism updated in light of new normal
VIETNAM (Vietnam News/ ANN) -- Various provinces throughout the country have finally resumed tourism after the fourth wave of the pandemic. Safe, green and closed journeys are now being offered to visitors during what is being called "the new normal".
Vietravel Company has opened 30 tour and service sale offices in the country after four months of being frozen.
The company will focus on packages from HCM City to green zones like tours to Can Gio (for 1-2 days), staycations; tours to Vung Tau and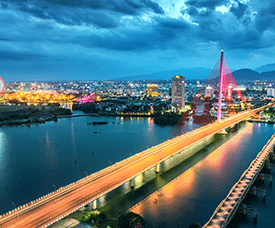 Downtown Da Nang by night.   --Photo phongnhaexplorer.com
Tay Ninh; and tours to receive Vietnamese overseas at home or foreign experts to work in Vietnam.
Next month, the company will open road tours from HCM City to Phan Thiet, Nha Trang, Da Lạt and Mekong Delta provinces.
The company's air travel will focus on Phu Quoc, Quy Nhon, Da Nang, Hue, Hạ Long and Ha Giang, in which the company will host charter flights by Vietnam Airlines to create closed journeys to several destinations at low cost. The company will also expand tours from Hanoi to northern provinces of Ninh B์nh, Lso Cai, Hs Giang and Qusng Ninh.
It has also offered 'Free & Easy' tours or combos of flight tickets and hotels at favourable prices.
Nguyen Nguyet Van Khanh, the company's deputy director of Marketing Department, told Vietnam News that all the products offered after the fourth wave of the pandemic had been refreshed to meet various safety criteria for the new normal "Besides safe highlights dubbed "Green Journey Enjoy in Safety", all the products are of high quality and at stable prices," she said.
A closed tour from HCM City to suburban district of Cu Chi and the Ba Den Mountain tourism site in the southern province of Tay Ninh opened on October 16 as a trial model.
Phan Thị Thang, vice chairperson of HCM City's People's Committee, said this was the first inter-regional tour organised after the pandemic hit the city. "The act shows the city's efforts in coordinating with 'green' regions to resume tourism."
Thang said that early next month, the city would reopen routes to other destinations in Tay Ninh Province.
"There will be a 'vegetarian culinary programme' as part of Tay Ninh's tourism to be inaugurated in the middle of the tenth lunar month (November 19)," she revealed. On October 15, an official plan was issued to recover the tourism sector by 2022 with adjustments due to the pandemic situation, and targets to ensure safety for personnel, destinations and services. For these targets, information technology will be applied to enhance the effectiveness of tourism activities and ensure customer safety.
The city's authorities  will examine international potential markets to promote advertisements and cooperate with international media to prepare for the open door procedure in 2022.
From early November to the end of the year, the city will expand accommodation services at hotels and increase hotel capacity to 70 per cent, and consider opening spa and dining services at hotels and resorts.
Thang said the city would offer more products including river cruises around the city.
"At this speed, the city will  recover all activities and tourism services next year," she said.  Following the Government's guidelines, the central city of Da Nang will gradually receive both domestic and international  tourists. Truong Thi Hong Hanh, director of the city's Tourism Department, said the city would receive domestic visitors in the city or from other areas in the country for business trips from mid-October.

(Latest Update October 26, 2021)