Vacationers, and virus, on the move across US

(China Daily/ANN) -- The pre-Thanksgiving holiday crunch of travelers on US highways and at airports is underway, and stealing a march on the vacationers is the coronavirus. With the number of infections rising in 38 states, health officials are warning of a winter surge.
Infections across the United States are approaching 100,000 a day, driven by the seasonality of the virus, the waning immunity of vaccines and the ranks of unvaccinated people, health officials said. Some 60 million people have yet to get the jab.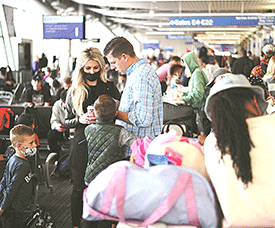 Travelers wait ahead of the Thanksgiving holiday at an airport in St Louis, Missouri.
The US reported about 1.2 million coronavirus cases in the week ending Nov 20 last year, and this year it is about 650,000 for the week, according to the Centers for Disease Control and Prevention, or CDC.
"I hate to say it, but I suspect we're at the start of a new winter surge," George Rutherford, an epidemiologist at the University of California, San Francisco, told National Public Radio, or NPR.
"There is concern that the rate of infection spreading is already so high as we head into the holiday season," Amber D'Souza, a public health researcher at the Johns Hopkins Bloomberg School of Public Health, told news website The Hill. "We're definitely headed into our next surge."
Outbreaks in the Midwest and Northeast are most responsible for pushing up the national numbers. Some hospitals in states in the Mountain West, including Colorado and Utah, say they are dealing with crisis levels of patients.
The same situation exists in Michigan, Minnesota and Wisconsin hospitals as cases that had been steadily increasing since school started jumping even more once the weather turned cold.
In Colorado Springs, Colorado, the shortage of coronavirus-related workers at the Poudre Valley Hospital is so severe that beginning this week the Defense Department will deploy a medical response team, including 20 nurses and respiratory therapists for about a month, said Kevin Unger, chief executive of UCHealth in northern Colorado.
"It's a marathon here," said Kencee Graves at the University of Utah Hospital in Salt Lake City to the broadcaster. She described her state, like much of the Mountain West, as stuck in a "high plateau of a surge", where hospitals not only have an intensive care unit full of COVID-19 patients but also many other kinds of sick patients who need care.
Connecticut is experiencing a more rapid increase in coronavirus cases than any other state. It has averaged 738 daily cases over the past week, a 116 percent increase over the level two weeks earlier, the Hartford Courant reported.
Record infections
Last year's Thanksgiving and Christmas gatherings fueled a record number of new infections and more than 100,000 deaths in January, the CDC reported.

(Latest Update November 25, 2021)