PM: Millions more Covid vaccines expected, govt aims for 70 percent vaccination target
Prime Minister Phankham Viphavanh on Friday told the National Assembly (NA) that millions of doses of Covid-19 vaccine are expected to arrive in the near future.
The government is striving to vaccinate as much as 70 percent of the adult population by the end of this year – a figure that exceeds the official target of 50 percent, the prime minister told the ongoing 2nd ordinary session of the NA's 9th legislature.
He was responding to questions raised by Assembly members on the government's measures to contain the virus outbreak, which has escalated in recent days. Over the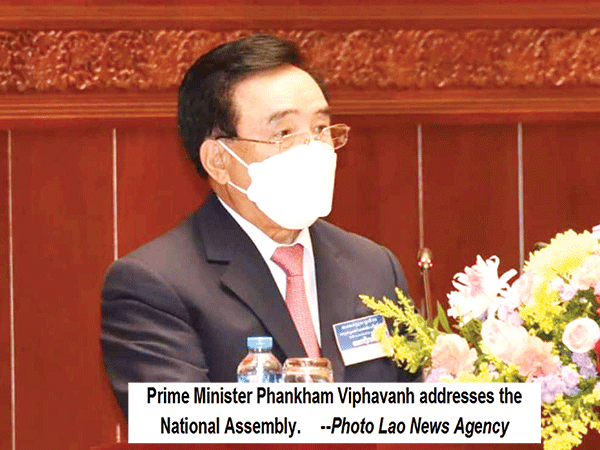 past few days, Laos has recorded daily high case numbers that have exceeded 1,000.
"We have already reached 50 percent [of adults vaccinated]. We will now strive to vaccinate not less than 70 percent by the end of this year," PM Phankham said. Vietnam has promised to donate 600,000 doses of vaccine to Laos, while China – a leading vaccine provider for Laos - will give 2.5 million doses. "With these new doses, the number of people vaccinated will be not less than 70 percent," the prime minister said. He added that vaccination has been the main factor in efforts to contain the outbreak by immunising people against the virus.
Looking ahead, the government hopes to vaccinate 80 or 90 percent of the adult population by the end of next year.
The prime minister also underlined the need for everyone to strictly observe other Covid-19 prevention and control measures including social distancing, handwashing, and wearing face masks.
He suggested that it was unlikely that Covid-19 could be eradicated in the near future, saying no country could do so. In light of this, members of the public need to adapt to a new normal way of life alongside Covid-19 in a safe manner. He warned members of the public to quit their habit of gathering together in large groups, especially for ritual ceremonies, saying such events should be scaled down and the number of participants limited.
The warning came after crowded events such as funerals resulted in several people contacting the virus.PM Phankham underscored the need to ease restrictions on business operations and enable people to make a living alongside efforts to contain the virus under new normal circumstances.
By Souksakhone Vaenkeo
(Latest Update November 8, 2021)