Cement factory strengthens economic development in Vientiane province

The Cement Vientiane Hongshi Xaythirath Factory will continue to run its business to improve the living standards of the local community.
The factory's Assistant Manager, Mr Gong Wei said the policy of the plant was to produce good quality products, and also to create job opportunities for local people as a priority.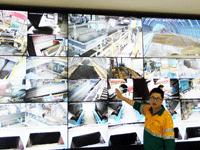 Mr Gong Wei shows cement production in a factory that is controlled by a computer system.
"This means that the population of Hinheup district will be considered first when looking at employees for the factory," he said. The factory will also offer a welfare policy for employees in line with the law of the Ministry of Labour and Social Welfare.
In addition, the construction of concrete roads and bridges for transporting products from the factory to sales points also benefits travel for the local community.
The Cement Vientiane Hongshi Xaythirath Factory was established in 2016 in Phabong village, Hinheup district, in Vientiane province and aims to strengthen local economic development. The factory also aims to produce cement for export. 
A Chinese investor ploughed US$300 million into the factory on an area of 76 hectares with a 50-year land concession. The factory employs almost 200 Lao people, most of whom are local residents.
Today, the factory's daily production capacity is 5,000 tonnes of cement. Since the factory has been established, it regularly pays tax in line with Lao law.
Mr Gong Wei said the policy of the factory was not only to create job opportunities for local people, but also to produce environmentally-friendly products. This means wastewater and other wastes are treated before being discharged. 
The cement from the factory is currently being sold in Vientiane, Xieng Khuang and Luang Prabang provinces and in the capital. The cement produced by the factory is suitable for the construction of railways, roads, bridges, dams and residential housing. Most of the raw materials are available in Laos. Only coal is imported from Australia to produce the cement in the factory. All materials are inspected for quality.
At the end of this year, the Cement Vientiane Hongshi Xaythirath Factory plans to export its products and expects that at least 100,000 tons of cement from the factory will be sold to Thailand every year.
Hinheup district Governor, Mr OudongVongsavath, said the Chinese cement factory directly benefits the development of the district and province.
"We hope that local people will have other income channels to improve their living standards in addition to what they earn from farming,"  he said.

By Times Reporters
(Latest Update August 18, 2018)