Chinese Mid-Autumn Festival is mooncake time

The Mid-Autumn Festival, the biggest celebration for our populous northern neighbour after Chinese New Year, is also known as the Mooncake Festival and sees most folk enjoying a meal with family finished off with a traditional dessert that supposedly brings good luck.
Also called the Moon Festival, it is celebrated when the moon is believed to be at its fullest, and in Vientiane many businesses, particularly those in the Chinese community, produce their take on the famous mooncake.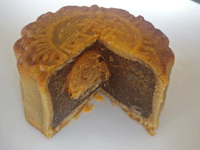 Mooncake with red bean paste and egg yolk at the Lao Plaza Hotel, Vientiane.
An experienced Thai chef, Mr Preecha Jintasuwan, told Vientiane Times that most people these days use a machine to make the cakes because of high demand, but if you make them by hand the taste is totally different.
"I've lived in Laos for many years and tried mooncakes from various places. I'm sure they use a machine to make them, but as I'm a chef at a five-star hotel like the Lao Plaza in Vientiane, I like to make them by hand to provide the real taste of mooncake to both overseas and local customers," he said.
Mooncakes are not easy to make as they have many components.
Most mooncakes consist of a thin, tender pastry skin enveloping a sweet, dense filling, and may contain one or more whole salted egg yolks in their centre as the symbol of the full moon.
Traditional mooncakes have an imprint on top consisting of the Chinese characters for longevity or harmony as well as the name of the bakery and the filling inside. Imprints of the moon, Lady Chang'e (Chinese goddess of the moon), flowers, vines, or a rabbit (symbol of the moon) may surround the characters for additional decoration.
The Mid-Autumn Festival is a harvest festival, celebrated in China and other East Asian countries, such as Vietnam and Singapore. It's always in September or October, in month 8, day 15 of the Chinese lunar calendar.  This year, the festival is on September 24 and most Chinese people take a break for two days.
To celebrate, Chinese folk get together to eat dinner with their extended family such as at their grandparents' home. Dinner includes duck, taro, and other regional festival foods, which may take most of the afternoon to prepare.
After dinner, the family traditionally offers sacrifices to the moon, in the belief that the moon will bring them good luck. The offerings may include mooncakes and symbolic fruits. If the sky is clear, they gaze at the full bright moon while eating mooncake. On a moonlit night, many families may go to a park to see the moon in all its splendour. 
Next week, many businesses will be cooking the dessert but the Lao Plaza Hotel has been preparing six kinds of mooncake by hand for a month. Their reasonably priced delicious delights include lotus seed paste, chestnut paste, cream paste, red bean paste, taro paste and durian paste, all with a single egg yolk.
By Souknilundon Southivongnorath
(Latest Update September 15, 2018)