Coffee producers' gathering perks up local interest
Office workers spend long hours in front of a computer and sometimes struggle to concentrate as the day stretches into the night, when the best pick-me-up is a cup or two of good strong coffee.
This most reviving of beverages will reenergise you and give you the strength to grapple with another task.
Coffee comes in all kinds of flavours, with Lao products rated among the world's best for their fragrant aroma and full-bodied taste.
The popularity of Lao coffee stretches far beyond the country's borders and is exported to an increasing number of countries. Foreigners are invariably impressed with Laos' coffee, and it has become a top export earner.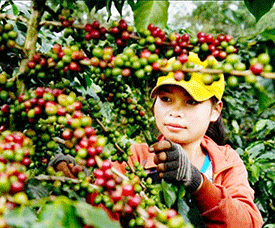 Women pick coffee berries.
Coffee exports are helping to boost the nation's foreign reserves as well as raising the profile of Laos internationally.
The surge in popularity of Lao coffee inspired producers to join forces for an event with the theme of "women in coffee" in which coffee artisans came together in Vientiane and shared their experiences as SMEs, as well as forging links with related sectors.
The event was held in the grounds of the Institut Francais earlier this month and gathered together people who wanted to improve their operating methods or develop their products, with the aim of encouraging more Lao people to drink coffee.
Participants included Once upon the Time, Morning Coffee, Team Organiser, Pha Khao Lao Helvetas, Comma Coffee, CPC and Coffee Project, Drip 1920s Coffee House (Barn 1920s), Kwang&Kobe Sandwich, A2 House, Le Trio, and Meuang Xieng Coffee, who all exhibited their products.
Those present were able to sample the various brands and compare notes on production processes.
Representatives of every coffee shop in Vientiane attended the event and discussed the various methods of roasting coffee beans and ways to serve coffee.
Participants strolled from stand to stand, scrutinising the products on display and always having a cup of coffee in their hand as they enthusiastically discussed developments in the industry.
An organiser of the Lao Coffee Culture Programme, Mr Khamsone Sysanhout, said that at the beginning of the day it had been quite uncomfortable walking around on the grass as it had rained after an early morning shower. But fortunately the rain stopped when the event started and all was well.
The burgeoning coffee industry encompasses growers, traders, roasters, coffee shop owners and consumers, as well as non-coffee drinkers who have an interest in promoting Lao coffee.
The number of coffee drinkers is increasing, as is production, and growers are developing closer connections with supporting sectors.
The event at the Institut Francais took place due to Laos being a member of the International Coffee Organisation, which has designated October 1 as International Coffee Day. Laos prefers to call it Lao Coffee Culture Day because coffee has contributed to Lao people's livelihoods for the past 100 years, Mr Khamsone said.
Although Laos is landlocked, it is blessed with abundant natural resources, with Pakxong district in Champassak province being known for its very fertile soil and excellent growing climate.
Due its relatively high altitude this area is called the Bolaven Plateau and it has become synonymous with coffee farming. 
Mr Khamsone said the history of coffee in Laos has passed through five phases. At the beginning of the 20th Century, the French planted the first coffee seeds on the Bolaven Plateau, recognising that the temperate climate and relatively high rainfall would be suitable for cultivation of the crop. Work on the coffee farms then became a regular source of employment for local residents.
There was a hiatus in coffee farming during the Indochina War but afterwards cultivation resumed, although the crop was limited because there was not much demand for coffee at that time. The government bought coffee from farms and sold it to Cambodia and Vietnam.
Then in 1990 the government partnered with France and other international groups to build up coffee production and trade. A coffee research centre was set up in Pakxong district to identify the most suitable kind of coffee to cultivate.
The next phase involved finding markets for coffee, improving cultivation methods and boosting exports, as well as ensuring an appropriate sale price and the quality of the coffee produced.
Today, as in the past, most Lao coffee is consumed by foreigners. Now, the goal is to convince more Lao people, especially the younger generation, of the comforting properties of coffee, and to involve them in all steps of coffee production.
One intriguing feature of the event at the Institut Francais was the request for attendees to bring a 500 kip note to exchange for a cup of coffee.
Naturally, many considered this to be a strange request, as 500 kip notes are rarely used today. But it was explained that this was meant to remind people of women's significance in coffee production, which was recognised by the government when they chose to print a picture on this banknote of women harvesting coffee berries.
Women play an important role in all steps of the coffee production process. They plant and tend to coffee trees, pick the fruit, roast the beans, and pack, grind and serve coffee.
Many people wonder why coffee is only grown in the south of Laos. Actually this is not the case because nowadays coffee can be grown almost anywhere that has fertile soil and a temperate climate.
The government has partnered with various groups to identify suitable land for growing coffee in other part of the country, to supply market demand in Laos and also to increase exports.
Agriculture is also blossoming in other areas and the government is looking to expand the cultivation of khao khai noi rice, cardamom, honey, mushrooms, bamboo and benzoin.
In case you don't know, Laos grows more than 10,000 varieties of rice, over 2,500 edible plants, more than 500 types of non-timber forest products and at least 1,500 species of medical plants, and has over 200 fish species. Laos has the biggest rice germplasm in the world, after India.
By Phouthong Sivongsa 
(Latest Update October 27, 2018)