Good value plates for delicious dining beckon kip-wise in capital
Lao people love to eat out with friends and family and are often seen at the best restaurants whenever they have a chance. While most restaurants offer fresh meat, seafood and vegetables at reasonable prices, WP Joum 103 Restaurant is fast becoming popular for serving a combo of fresh seafood, pork, beef and vegetable at just 5,000 kip per small dish.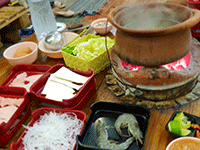 There is lots to choose from - pork, mushrooms and shrimps at this restaurants.
The restaurant owner, Mrs Pavina Onxayvieng (Pou), said her restaurant serves high-quality pork, seafood, vegetables and beef at only 5,000 kip. The dishes are served with delicious sauces and soups.
"Hotpot at the restaurant is different from other restaurants because we serve high quality and fresh meat and seafood every day, delicious sauces and soups, prepared in a hygienic manner and offered at reasonable prices," Mrs Pavina said.
Opened only eight months ago, WP Joum 103 restaurant already ranks high in popularity amongst the town's teens and residents.
With its vintage-style décor, the restaurant is the perfect place to relax. It attracts all groups of people, including officials, private sector employees, and others.
The restaurant has 18 tables that can accommodate up to 100 customers at a time.
A customer, Mr Kietisak Phanthoulath, who was dining at the restaurant for the first time said, "I think that WP Joum 103 restaurant is one of the best restaurants that serves fresh meat, seafood with delicious sauces, and soups at cheap prices."
"It also has the best service, the atmosphere well good and music blends in," he added.
WP Joum 103 restaurant is easy to find as it is located at Phonpapao village in Sisattanak district near 103 hospital. It is open from Tuesday to Sunday from 4 pm to 11.30 pm.
By Viengdavanh Banphahaksa
(Latest Update October 20, 2018)