Morning Coffee shop is a hit with java lovers

If you want to drink a cup of the best coffee at good prices in Vientiane, you should make your way to the Morning Coffee cafe.
This café is popular with locals and foreigners living in Vientiane because its sells coffee produced by plantations on the famed Bolaven Plateau in Pakxong district of Champassak province, and blends tea via Japan and Thailand.
The Morning Coffee cafe's owner, Mr Pakonekham Thoudsanikone, 27, told Vientiane Times that the café serves the best quality coffee in a modern style, with the prices of drinks ranging from 13,000 kip to 25,000 kip.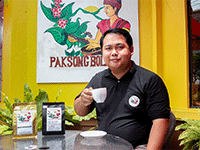 The owner of Morning Coffee Shop, Mr Pakonekham Thoudsanikone.  --Photos Morning Coffee cafe
"The cafe currently can serve up to 30 customers, and 30 to 40 customers come to the shop from Monday to Saturday in the morning and night. Most of them, or about 80 percent are foreigners, who come in the mornings," he added.
The most popular coffees on the menu are espresso and Arabica Typica.
Much of the coffee used at the Morning Coffee Shop is produced at Mr Pakonekham's coffee plantation on the Bolaven Plateau, while the green tea is imported from Japan and Thailand.
Mr Pakonekham also sell coffee beans for 55,000 kip for 200 grams, and 450 years tea from Phongsaly province at 80,000 kip for 75 grams.
Morning Coffee cafe also has imported drinking water, snacks and Pate bread, which has been sold for more than 20 years at popular shops in Laos. What sets it apart from the other cafes is its great coffee and high quality and fresh products sold at reasonable prices.
The café provides a space where everyone can feel relaxed and happy while enjoying a coffee and eating a snack.
The menu is aimed at attracting all groups of people, including public officials, private sector employees, families, groups of friends and other Vientiane residents.
Mr Pakonekham said he began producing coffee at his plantation on the Bolaven Plateau in 2015 and opened the Morning Coffee cafe in April to promote his coffee among local residents and foreigners.
The café is open from 7 am to 9 pm Monday to Saturday. Morning Coffee cafe is very easy to find, located in Vatchan Vat Chan village in Sisattanak district of Vientiane, opposite the Vat Ongtue temple.
By Viengdavanh Banphahaksa
(Latest Update October 13, 2018)