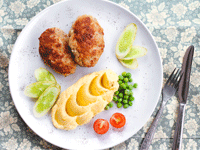 Signature Russian dishes that await customers at Privet Restaurant.
Privet Restaurant provides best of traditional Russian cuisine

People who have never experienced traditional Russian cuisine shouldn't pass up an opportunity to visit the restaurant Privet in the capital.
Privet, named after a formal greeting in Russian, is probably the lone restaurant in Vientiane that serves only traditional Russian cuisine. 
The restaurant's owner, Ms Lena Aberut, said the reason she started her own eatery in Vientiane was that she wanted to serve traditional cuisine to students from countries of the former Soviet Union, Lao people and foreigners who love such food. She also wanted to cater to people who had never tasted traditional Russian fare.
The restaurant, now into its second year, also delivers food to encourage customers to try its healthy dishes.
Since it opened last year, the restaurant has received good feedback for its food and generated a lot of interest among the public. Ministers, government officials, staff of private companies and offices and foreigners are among its customers.
"They visit to try our delicious food, and then they see the decorations inside the restaurant and paintings of Moscow, and they fell like they are somewhere in Russia," said Ms Aberut.
Photos of customer are among the decorations on the walls.   
The restaurant's menu includes dishes such as Salad Olivier (15,000 kip) Borscht (russian soup, 22,000 kip), cutlets with mashed potatoes (22.000 kip), dumplings (12,000 kip), and salted fish (28,000 kip).
Ms Aberut said the attractions of Privet Restaurant include reasonable prices,  fresh, hot and healthy food, with each dish getting attention from the chef, and the friendly staff.
The decorations and paintings add to the warm atmosphere inside the restaurant and the customers can also access free WiFi.
As a promotional offer for customers who want to try Russian food, the restaurant provides a 20 percent discount on Bliny with tea every morning, and a lunch set every weekday for 38,000 kip (with an additional offer of buy nine and get one free).
There is a 15 percent discount on brunch every Saturday and Sunday for the entire menu, vodka and wine.
The restaurant also has promotional offers for students from countries of the former Soviet Unions, including for birthdays, free snacks with vodka, and free photos with a Moscow background and a Russian hat.
Privet Restaurant is located in Donpamai Village, about 500 metres from the local Village Office, and is open from 11 am to 11 pm Tuesday to Sunday.
The restaurant is currently expanding the space for diners and adding more tables and creating a VIP room to cater to a growing number of customers.
By Sisouphan Amphonephong
(Latest Update September 29, 2018)