Savannakhet's tasty chicken a tempting treat for travellers

Anyone heading to southern Laos should make a point of stopping off at one of the many roadside stalls selling grilled chicken in the Xeno area of Savannakhet province.
The best chicken is available at stalls that line Road No. 13 South, in an area about 400km from Vientiane.    
The smoke rising from the stalls can be seen from a distance throughout the day, and as you get closer you can smell the mouth-watering aroma of the chicken as it browns over glowing charcoal.
People coming from Vientiane often stop at Xeno for lunch. It usually takes about six or seven hours to get there by minibus.
The owner of one grilled chicken stall, Mrs Kanya Phimmalath, told Vientiane Times with a smile that most people like her chicken because it's fresh, tastes great and is good value for money.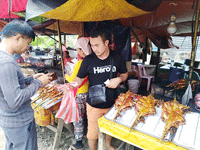 A vendor gives a bag of grilled chicken to a customer.
Many people stop to snap up the freshly cooked chicken, which is soft and delicious. For many customers, the lunchtime stopover is one of the most memorable parts of the journey.     
There are two places that appear to be competing for the tag of "most popular" - Xeno in Savannakhet province and Napong village in Kongxedon district, Saravan province.
Grilled chicken sold at the many small outlets in Napong has been famous across the country for many years, a reputation it continues to carry.
In the past, whenever someone from Vientiane travelled for work to the south of Laos, he or she would be asked by relatives to bring back some chicken from Napong. But now Xeno seems to be encroaching on that reputation.
Someone who has eaten the chicken sold in Napong told this reporter that the taste of the chicken there was different from that available in Xeno. In Napong, the chicken pieces are quite large, and the meat is not tender but rather salty. 
Mrs Kanya said she sells between 30 and 40 barbecued chickens every day. Most of her customers are passengers in buses, minibuses, and other vehicles travelling down the highway.
"I'm not lying - I sell all of my chicken every day. If I think I won't do so on some days, I just hold some up. I signal to a bus to stop and then I knock on the windows and ask people to buy some chicken," she said.
Most people like to eat the chicken with papaya salad and sticky rice.
The price depends on size. Large chickens sell for 40,000 kip, while medium ones go for around 35,000 kip and small ones for 30,000 kip.
Mrs Kanya said some customers from Vientiane bargain too much. She would not say whether the chickens are farmed or are raised locally by villagers.
She said she and other vendors in Xeno donated about 500 chickens to flood victims in Sanamxay district, Attapeu province, at the end of July.
"About 500 chickens were taken in a car to the district office in downtown Sanamxay. I chopped the chicken up and distributed it to people immediately," she said.
"We chopped and cooked all the chickens in half a day. But before the chicken was finished, I was feeling faint," she added. "Then I went back to Xeno to reopen my chicken stall a few days later."
By Khonesavanh Latsaphao
(Latest Update September 8, 2018)