Traditional restaurant gives tourists a taste of Lao cuisine
A Han Ban Hao Restaurant in Borikhamxay province has been serving up popular local dishes to tourists for more than 17 years.
The eatery is usually packed at lunch and dinner.
The owner's wife, Mrs Hom Xayyasarn, told Vientiane Times that most of the dishes are priced between 20,000 and 40,000 kip.
"Most of our customers are local and foreign visitors who are travelling from Vientiane to the south. We also get some local residents," she said.
The popular items on the menu are koy pa (fish salad, a Lao specialty) tomyam (fish or chicken soup), sour fish soup, sour chicken soup, deep fried fish, fish in sweet and sour sauce, and deep fried pork ribs.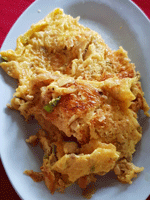 Some of the dishes on offer at the restaurant.
The menu is aimed at of all types of people - tourists, government, private sector employees, and families.
Every day, about 50 people visit the restaurant, which can serve up to 120 customers daily. It is open from 8am to 9pm Monday to Friday.
"A Han Ban Hao Restaurant is different from other eateries because it offers popular local food, the best quality and fresh products at reasonable prices. It provides a place to relax with a great view. People can be happy while enjoying their food," said Mrs Hom.
The restaurant has received a hygiene certificate from the Food and Drug Control Department of the Ministry of Health.
One customer, Mr Keosomphone Hatthachah, said "I always visit this restaurant whenever I travel to the area because I like the food and the natural atmosphere."
A Han Ban Hao Restaurant is easy to find and access as it is located in Pakkading village and district of Borikhamxay, near the Pakkading Bridge.
Make sure to look out for it next time you're passing through.
ByViengdavanh Banphahaksa
(Latest Update August 25, 2018)