National heroine proud to serve national development effort
Ms Phaengphone Khanthayongthong is the 92nd person to be named a national hero and has become the 23rd woman in Laos to be honoured with this title. This recognition of her valour did not happen by chance but acknowledged the personal sacrifices she made for the revolutionary task.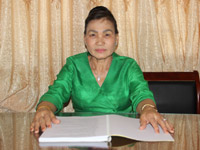 Ms Phaengphone Khanthayongthong.
She has been awared this accolade for treating 300 wounded people during a time of fighting against invaders in Tadham village, Xayaboury province, and for moving them from a dangerous to a safe place.
She worked alone for three days from February 11-13, 1988, to achieve her mission. After working hard without taking break, she passed out and remained unconscious for six days. In recognition of her gallant efforts, the government decided to reward her with the title of national heroine.
But that was only one mission she undertook in support of the revolutionary movement, as she had carried out various other tasks prior to 1975.
Born into a poor family in Nahee village, Add district, Huaphan province, Ms Phaengphone began actively supporting the revolutionary movement when she was just six years old.
At that time, she was selected to work in the cave that was inhabited by Mr Nouhak Phoumsavanh in the revolutionary stronghold of Viengxay district, Huaphan province.
She was allocated a specific daily routine. Every day she got up at 5am to cook rice, after which she washed dishes before joining Mr Nouhak and his associates for breakfast. After that she boiled water for their daily drinking needs before working in the vegetable garden. Every evening she attended political training sessions given by Mr Nouhak and other revolutionary leaders.
She also learnt the basics of the treatment and diagnosis of various medical conditions.
During their stay in the revolutionary stronghold area, Ms Phaengphone and everyone else had to take great care because there were spy aircraft making sorties several times a day to check the activities taking place in the area.
After the Lao People's Army triumphed in the war, the health sector moved its offices to the capital and Ms Phaengphone began work at the Ministry of Health in Vientiane.
She decided to study a full range of practical skills, diagnosis and treatment at Mahosot Hospital.
Then in 1988 she was chosen to assist in the Botaen incident in Xayaboury province, where she helped to treat more than 300 people and move soldiers and some remains of the deceased to a safe place.
Ms Phaengphone said she was proud to have had the opportunity to support the revolutionary task.
"Even though I don't have a high level of education, I was selected to take part in this honourable task and become a helper to national leaders," she says.
She was also very pleased to be able to assist more than 300 wounded people and soldiers and ensure their safety during the invasion of Botaen, which led to her being named Laos' 92nd national heroine.
She is now the 23rd woman in Laos to be thus honoured.
Today, Ms Phaengphone is President of the Phaengphone Construction, Bridge and Irrigation Company, which works on many government projects to improve infrastructure in rural areas.
"I am also proud because I have been selected to participate in national development," she adds.
By Times Reporters
(Latest Update July 20, 2018)