Young designer to study fashion in Singapore

The first runner-up of the Lao young designer competition 2017, 19-year-old Ms Manivone Vansavath, will study fashion design at Nanyang Academy of Fine Arts (NAFA) in Singapore from this month to improve her skills in fashion.
She will spend six months studying fashion design to improve her ability and gain inspiration to design fashion pieces.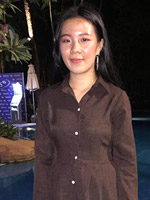 Ms Manivone Vansavath.
Ms Manivone grew up in the southern provinces of Laos.
As an ambitious young designer, she felt the need to improve her fashion design skills.
Regarding this chance to study in Singapore, she has said she would work hard and do her best to come back with new knowledge and inspiration to develop her skills and contribute to the fashion industry in Laos.
Singapore is a leading country in the fashion industry, and Ms Manivone said she was sure she would gain a lot from her experience.
She will use her training in Singapore to design a new collection for Lao Fashion Week 2018 that will take place in September this year.
Ever since she was a child, she has loved drawing and design.
Her style, which won her an award in the competition, is a mixture of Lao and modern design.
After returning from Singapore, she said she expects that her designs will become more modern and she will use high-quality fabrics to make them stand out.
Ms Manivone said she dreams of one day having her own brand and fashion house where she can create designs that will be popular in Laos and abroad.
She said she is also interested in learning more about architecture.
Ms Manivone recently graduated from Phonxay Secondary School in Pakxe city, Champassak province.
After she entered the Lao Young Designer Project, she said she gained many valuable experiences.
It opened up many opportunities for her and other young Lao people to showcase their skills and talent and make their dreams of becoming a fashion designer come true.
She tells young people who want to participate in this competition that the most critical thing is competency and the ability to draw.
Manivone Vansavath presented her first collection at Lao Fashion Week 2017. She will leave for Singapore on July 28.

By Sisouphan Amphonephong
(Latest Update July 12, 2018)